Boom! And another successful pitch bites the dust!After 9 weeks of intensive learning, seven teams of students got together to showcase and pitch their work to a full room of people (and I'm not kidding, we had an even fuller house than our previous pitch event). The students were comprised of our October 2016 cohort, and this time the theme was Hacking communities. So all the apps that were showcased were related to the way we live our lives, and helping the community.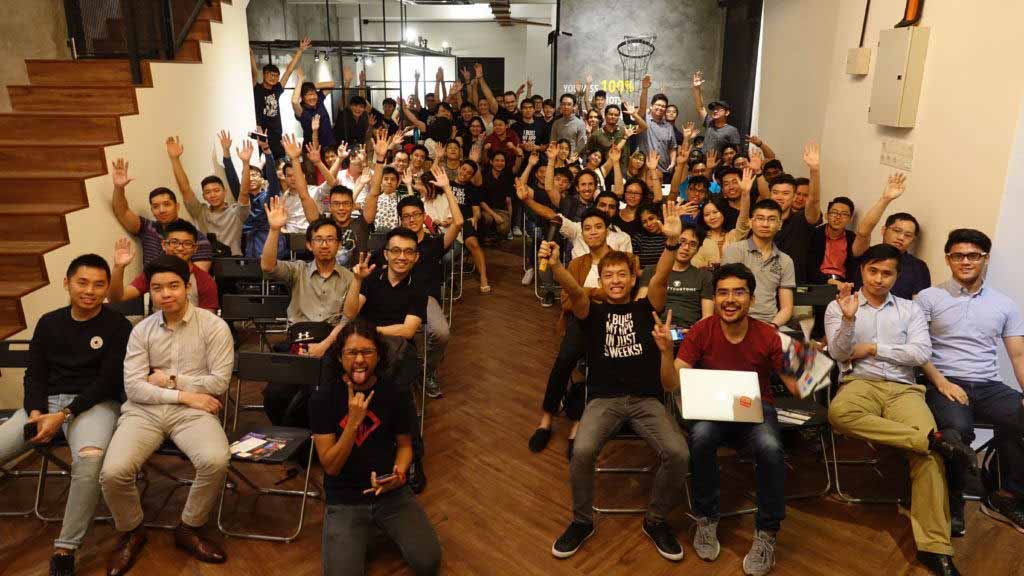 As per usual, all the students had worked hard in the final week of their bootcamp to build their apps. I would like to stress that it was not an easy feat, considering they've just spent 8 weeks learning how to code, and now we've essentially thrown them under a bus (note: see app no.2).Many of them came from non-coding backgrounds, and it was impressive to see the results of their creativity and hard work.Here are the 7 teams and their apps:
1. Art Asia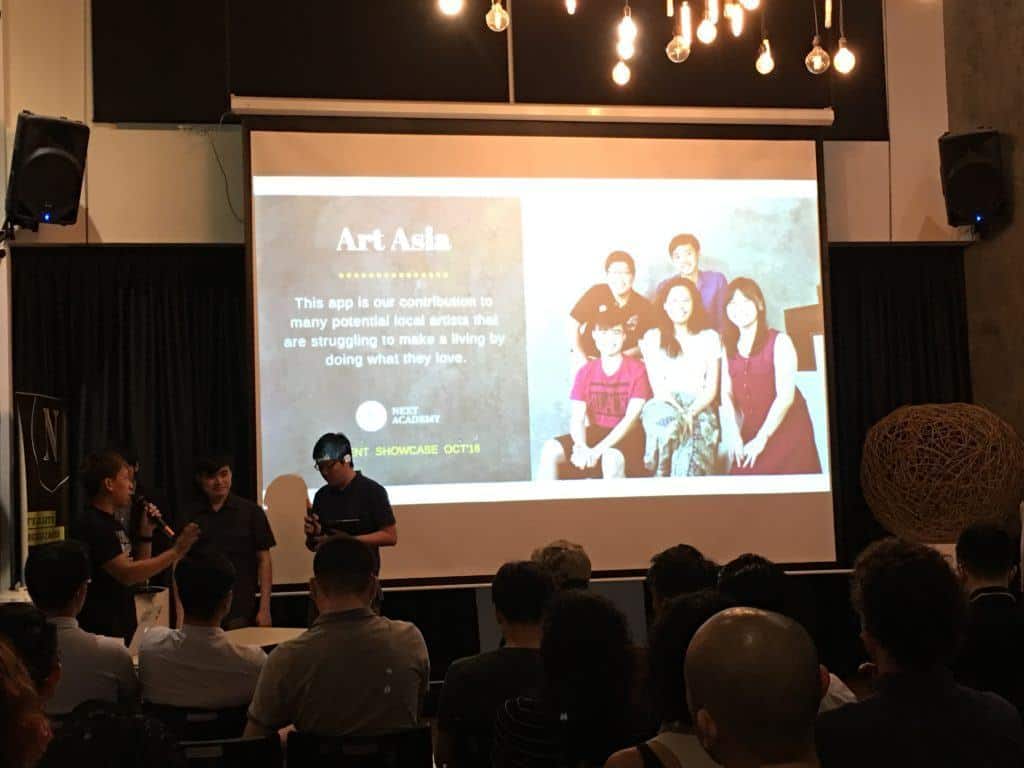 Art Asia members: Wan Yin Soon, Ejay Tan, Jeffrey Goh, Maria Khair, Ng Pui KuanArt Asia created their app with the objective of giving local artists an outlet to express themselves and generate sufficient income at the same time.Their app was meant to provide a platform for local artistic talents to showcase their skills, while also allowing supporters to provide monthly financial support to artists they support.
‍Think of it as Kickstarter, but for artists. To use the app, anyone can join the community by creating an account. Artists will be able to post and showcase their work, while supporters can search for art, and donate to campaigns they support.There is a livestream system as well for singers and musicians, and a chat system to allow community interaction.
2. BusHours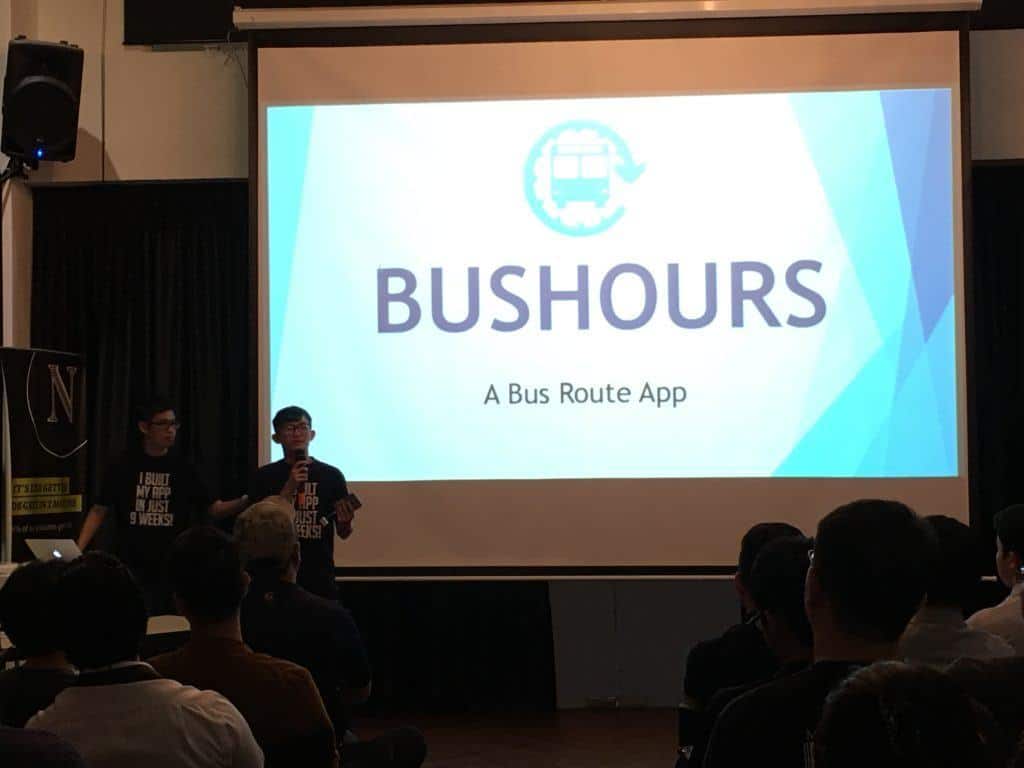 BusHour members: Chin Guan, Khang HuiThis two-man group created a bus route app which allows people to plan and know their bus route when using public transport.
The app allows people to plan out their journeys from start to finish. It allows them to view the full list of bus stations (or detect the nearest station to your current location) so they can see where to start from and where they can go.
People can even calculate the fares, estimated time of arrival, and the bus schedule. And when waiting at a particular station, you can even check the live location of the bus, so you'll know when it will reach the station you're at. Handy!They have yet to include train information because usually this is already displayed at the stations (like train arrival time and stations), while not all bus stations have this info.Someone asked if they have plans to extend this to other countries, but at the moment they have no plans to go global.
3. Bantu Boleh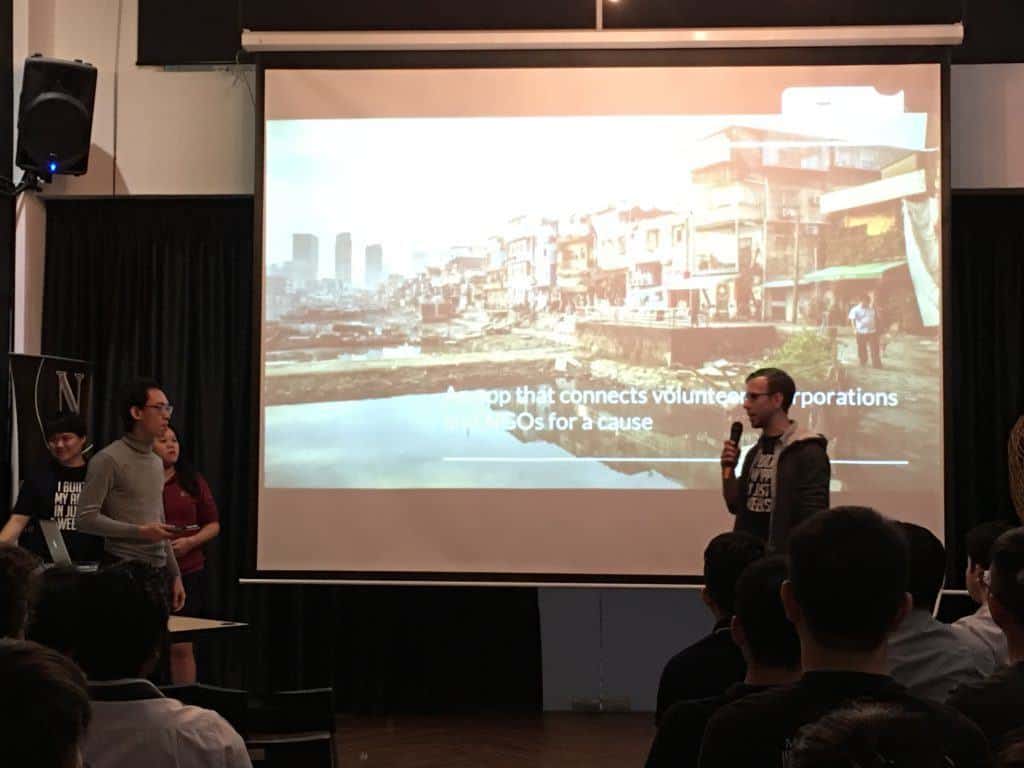 Bantu Boleh members: Sze Wei, Jack Yune, Lor Gian Zhi, Ian Beamish
Bantu Boleh created an app to connect volunteers, corporations and NGOs for causes. It's meant to be a social networking platform to allow these groups to coordinate their charity activities, in order to prevent resource wastage, as most NGOs in Malaysia are not very well-coordinated.
Without the app, people usually volunteer and connect via Facebook event pages.The app is meant to help prevent these problems, making it easier for people to find events and volunteer.People can sign up for events via the app (and even register their friends). Events that you sign up for can easily be managed via your in-app profile.
Events on the app will have a clear start and end date. You can even locate events that are happening near your location via the in-app map.Volunteers may also donate via the app to an organization or event that they support using PayPal.
At the moment, people can only comment on events and see what people are saying about it. They can also look up people who are attending the same event and message them directly. However, there is currently no chat function within the app.
4. CashTrash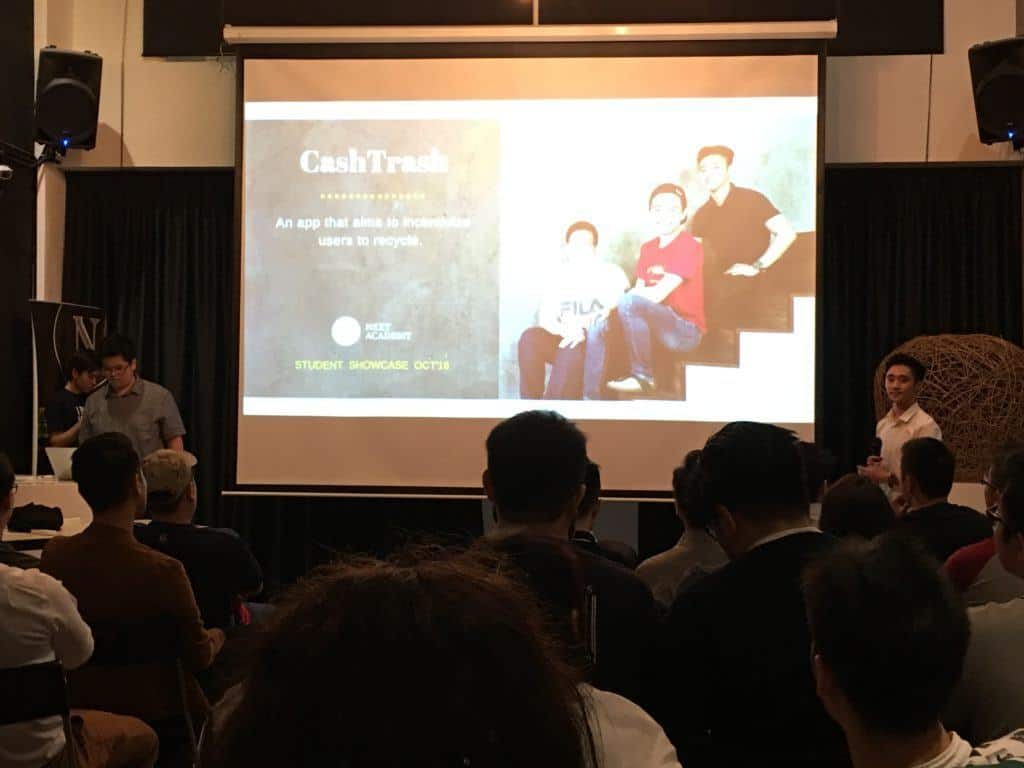 CashTrash members: Kelvin Lee, YS, Kok LoonThe CashTrash app focuses on saving the environment through recycling, and providing users with monetary incentive for their recycling efforts.Currently, many Malaysians don't recycle, they may only collect old newspapers and sell them when the old newspaper lorry comes by their house.The group came up with CashTrash, which allows people to schedule a recycling pickup at their house (or a relative/friend's house). Depending on what and how much they recycle, they will be paid according to local market recycling rates.
‍The app even provides guidelines for users to educate them on how to recycle – such as steps to dismantle electronics and how to separate materials for recycling.They eventually plan to add GPS tracking for the drivers who go to make pickups, so people will be able to track when the pickup will arrive.
At the moment, they have not set a minimum or maximum amount per pickup, as the main idea is to encourage recycling (even if a person only has one bag of aluminium cans, or something). However, they need to look into a minimum amount to prevent loss of revenue, and also how to compensate their drivers.
5. CozyCo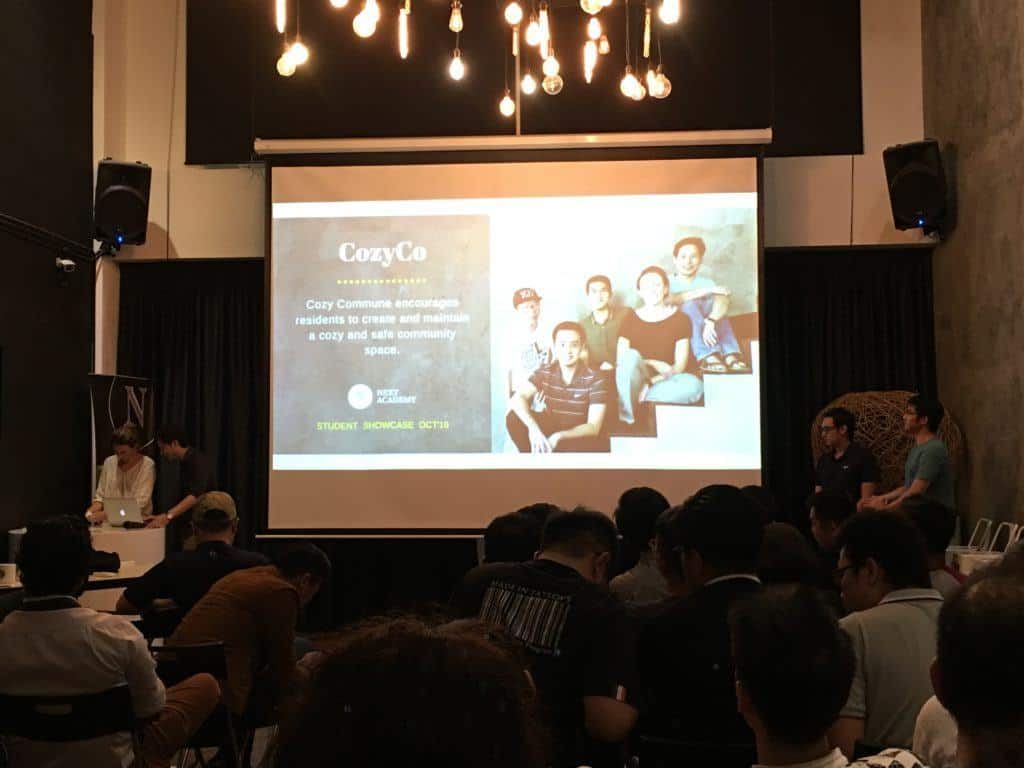 CozyCo members: Emma Archibald, Lee Sijian, Yeoh Shi Xian, Tai H Lim, Shong Jay ShenThis group's app aims to lay down a system to encourage residents to create and maintain a cozy and safe community space.
CozyCommune was inspired from the team's experiences living in apartments, condominiums, housing neighbourhoods and gated communities, having played both roles as the resident and also the resident committee member.The app provides a platform for a community's residents to connect with each other, as well as a forum for communication and an online notice board for community notices.
Residents can sign up for community events (like a tennis competition or group hike) via the app. They can also send messages or emails to other residents – for example, to let a neighbour know that they'll be away for the weekend and to ask them to keep an eye on their place.The team did their best to digitalize management functions as much as possible, and provide an app that promotes community engagement, higher security and lower management fees.The team's biggest challenge moving forward will be finding ways to fit the app to different building managements and communities.
6. Kerrent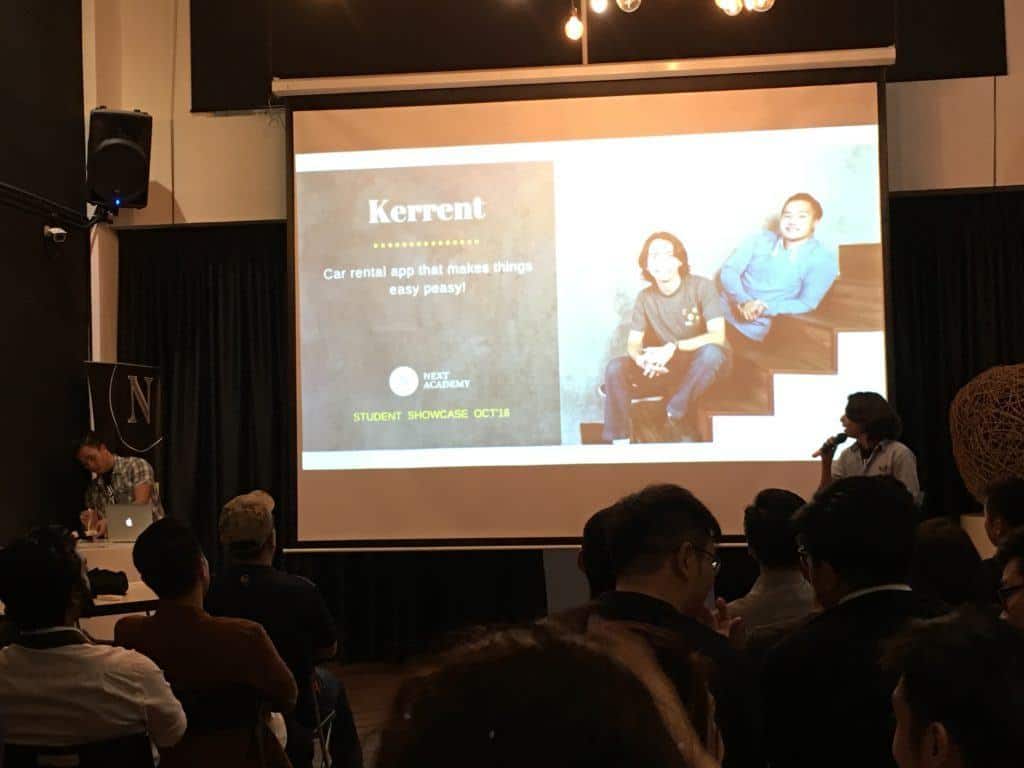 Kerrent members: Ronnie and ClintonKerrent is a car rental app designed for iOS.
It's meant to allow people who don't drive (students, tourists, people from one-car families) to be able to rent a car.
‍You can use the app to browse available cars, and tap on any one to rent it. Then you choose the date you want to rent the car, and the date to end the rental. The group plans to sync the app with a car rental company's database, but in future they also plan to allow users to add their own car listings and include navigation features.They have yet to plan how to prevent misuse of rental cars, or how to get the car to the user who rented it – however, some car rental companies have services where they send their cars to people who rent them.
7. Dynos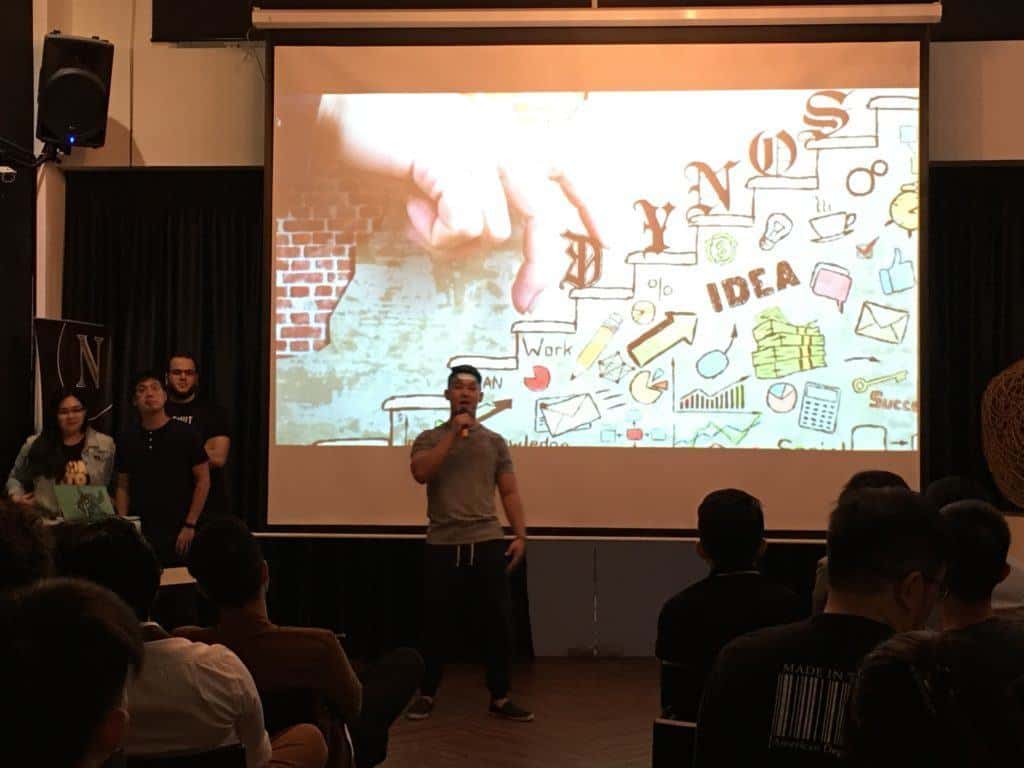 Dynos members: Zen Ooi, Kok Hung, Aimen, Tony YeeDynos is an app that is meant to help parents with finding schools and educational centers for their children.
The app allows them to search for schools in the area and sign their children up. Through the app, they can look up school info and reviews from other users.Currently, there may be an issue with secondary schools as students are assigned to schools according to their registered addresses. However, students can still apply to change the school they are assigned to, so the team hopes to find a way to work around this.After all teams had presented, the audience were asked to vote on three main categories:
‍Best App (Technical and Functionality), Best Pitch, and Favourite App. Here are the winners (drumroll please):
Best App (Technical and Functionality): BusHour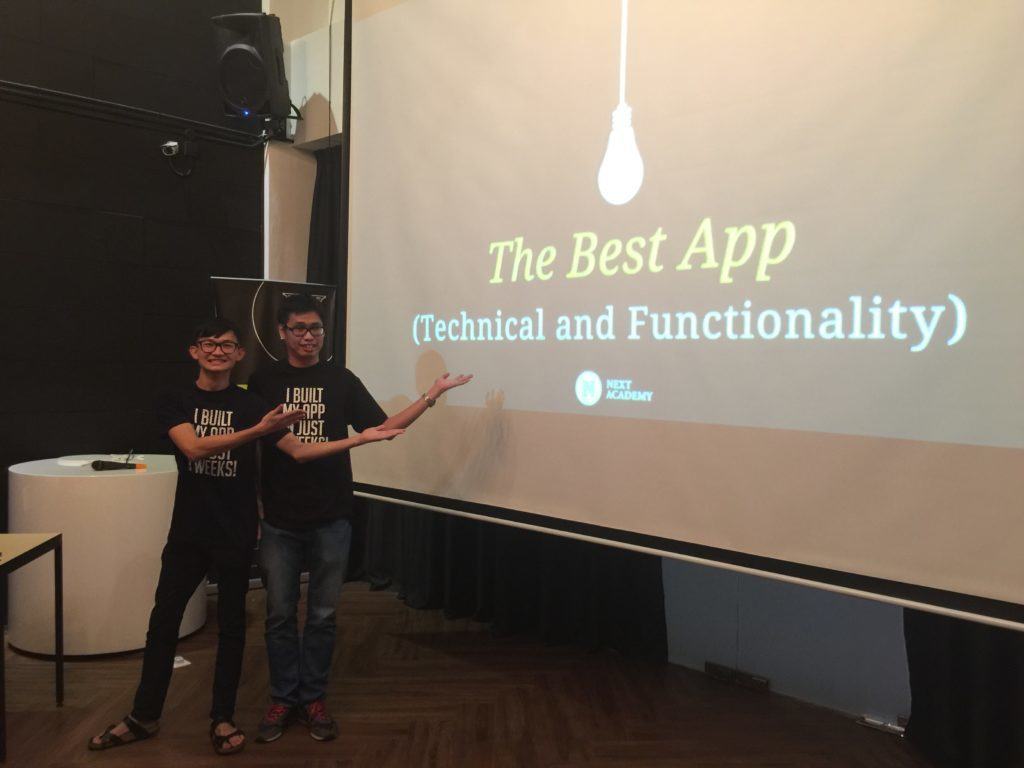 Best Pitch: Dynos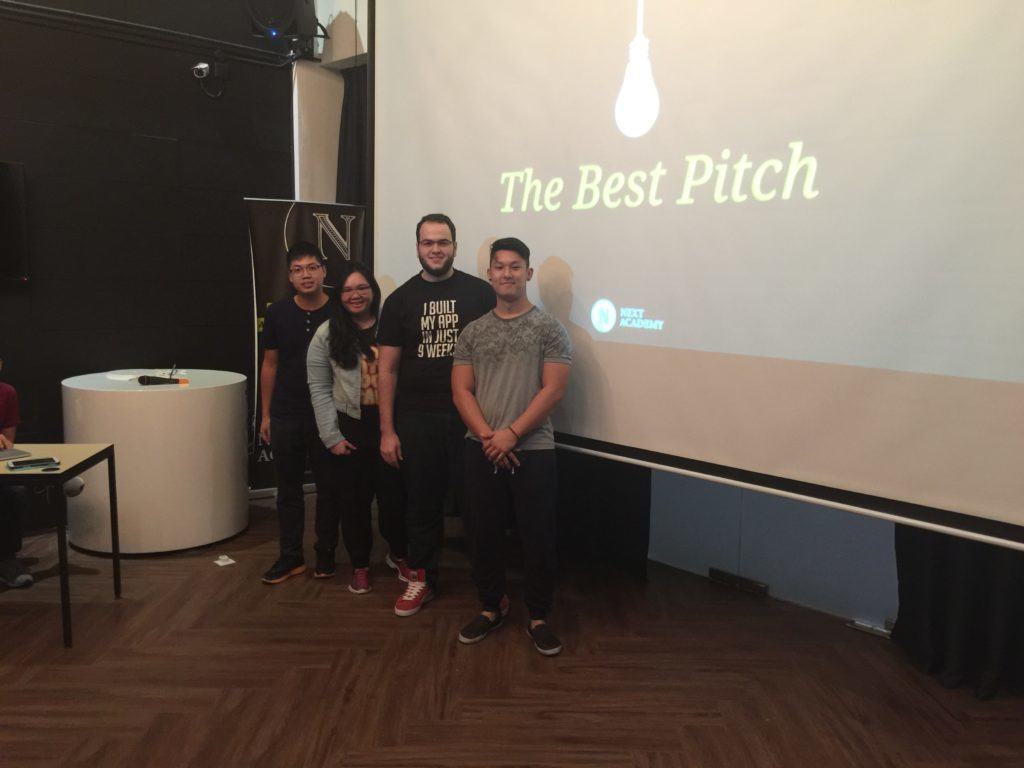 Favourite App: BusHour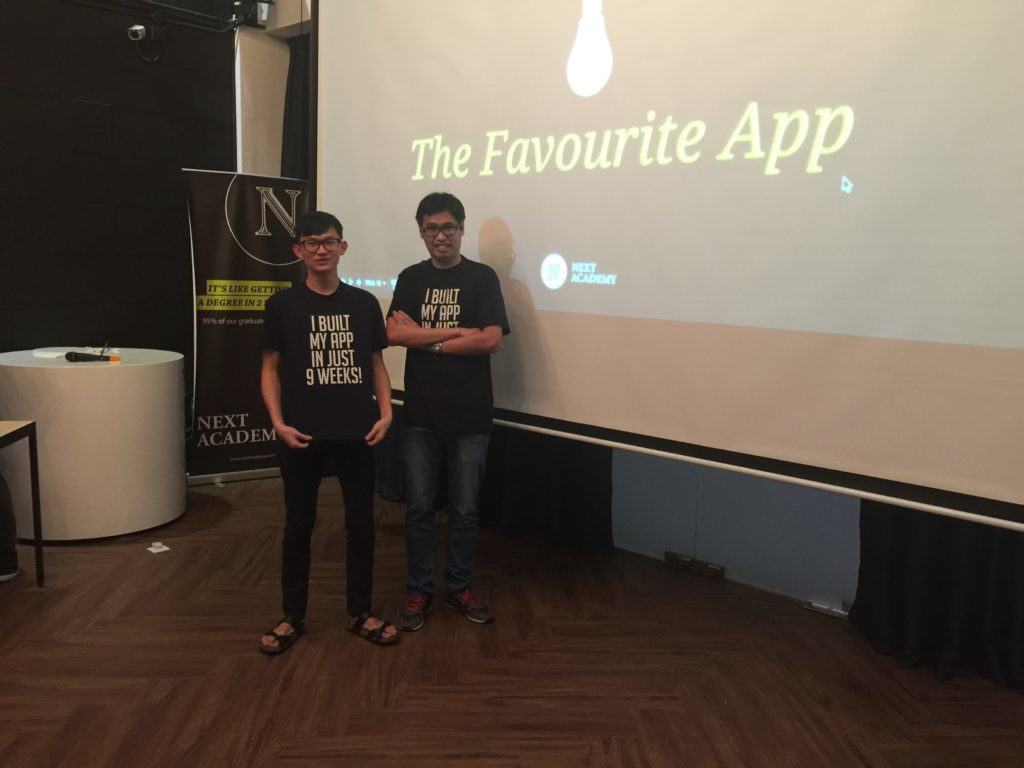 Congratulations to all our October students!Regardless of who won the various categories, know that you're all winners!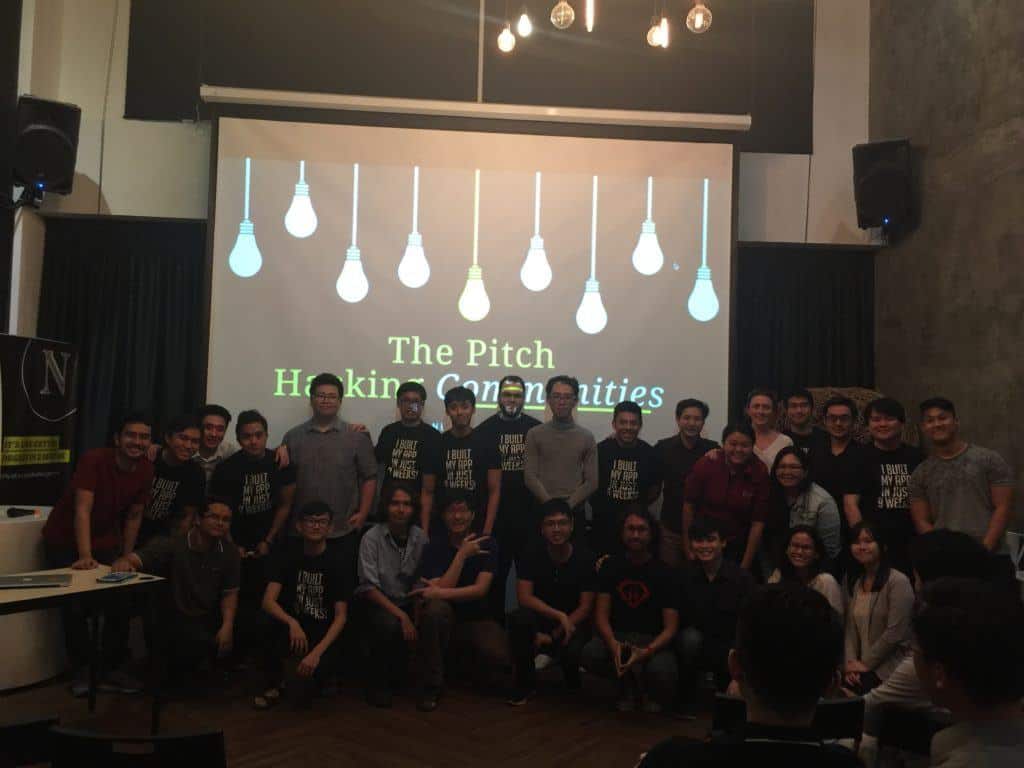 If you regret missing out on this epic pitch event, then make sure you're following us on Facebook so you won't miss out on our next event!You may also watch the Facebook Live replay below:
…if you want to know more about the bootcamps that our graduates joined…Be it building your MVP/ prototype or learning how to market your business, here are some resources which you should definitely check out.
See you at the next pitch!