THE ULTIMATE GUIDE TO ONLINE DIGITAL MARKETING COURSE
Find out what digital marketing skills you need to get a career as a digital marketer, a freelancer or to start your own online business.
Digital marketing has been a hot topic for the longest time. 
If you're a business or want to start a business; you need a digital presence to create awareness, build credibility, generate leads and close sales. 
In terms of career opportunities, the more diverse the internet becomes, the more digital opportunities there will be.
Here is a comprehensive guide on digital marketing – the different lingo, the verticals, the opportunities and what do employers expect when they hire for a digital marketer.
Want to be mentored by business centric marketing experts?
Get our program kit and check out out our digital marketing syllabus. It is not just another digital marketing course as it is put together by an entrepreneur-cum-marketer.
Read on or click to jump sections.
Career in Digital Marketing
Is Digital Marketing Important For The Future of a Business?
Digital Marketing Course In Kuala Lumpur, Malaysia
What is Digital Marketing?
Digital marketing is essentially
marketing via digital means.
There are many digital platforms and tools these days, for example, the commonly known Facebook advertising, Instagram advertising and Google Ads are just one small part of it in the world of digital world. You could find many other social platforms that provides the same services.
There are non-paid, organic advertising as well, which includes social media marketing and search engine optimisation (SEO). There are tools that help create a referral ecosystem as well as to nurture and follow up with your leads.
In a nutshell, digital marketing leverages on the digital world, digital platforms and digital tools to reach out and to convert a customer is his or her own customer journey.
Digital Marketing vs Traditional Marketing
The rise of digital platform disrupted the traditional advertising scene.
Traditional marketing in the past was known to be expensive and required a lot of effort. Think of billboards, magazines, television or radio as well as cinema placement. Think of the amount of ad budget you need in creating adverts as well.
Furthermore, it is common for people to determine the success of a campaign just by the number of impressions or eyeballs that sort the ad. We don't even know if the person who saw the ads are even interested or relevant at all!
5 key things that make digital marketing indispensable compared to traditional advertising:
1. Digital marketing is more affordable and accessible
Today, you can start marketing with as low as RM100 which was clearly IMPOSSIBLE with traditional advertising (you would likely need a minimum of 5 digits). SMEs could finally get into the advertising game and compete with deep-pocketed MNCs.
2. You can test your ads
If one set of ads are not working, you can change the copy, images or targeting, and test out another set of ads with just a click of a button. All these could be done in just 5 mins. 
With traditional advertising such as billboards, you can't just take down your ad as and when you want.
3. Digital marketing has better targeting
People used to target based on demographics – age, gender and race. With digital, you can target beyond demographics. You can target based on interest, intent and even life events. 
4. Digital marketing is measurable
The success of your campaigns can now be measured with the metrics that matter to you! Gone are the days where people measure anything based on impressions or "eyeballs". Today, you can choose to measure based on the number of leads or the number of sales it generates!
5. Digital marketing has a large audience group unbounded by location
Just ask 10 friends around you, how many of them are using social media such as Facebook or Instagram? So long the person is using these platforms, you can advertise to them.
Now, instead of thinking locally, what if you want to target globally? With digital platforms, you can easily reach out to people from different countries with just a few clicks of a button.
If you have a business or want to start anything online, you will be missing out if you are not leveraging on the digital landscape.
Compared to traditional advertising, digital platforms made advertising accessible and affordable for all businesses to gain awareness, target the right audiences better and generate leads.
Are Digital Marketing, Online Marketing, eCommerce Marketing & Internet Marketing training the same?
Different marketing terms have different purposes
My students always ask me this. The truth is, they are pretty much the same but may have a slightly different purpose for each, thus requiring you to have different strategies.
Here are some key differences between these 4 marketing terms which you may have heard:
1. Digital Marketing
Digital marketing focuses on the technical digital skills you need to know. Basically, everything else requires digital marketing.
2. Online Marketing
Online marketing is using digital marketing to bring a business online. It may or may not be an eCommerce site. For example, every company has an online presence and may use the website to generate leads.
3. eCommerce Marketing
eCommerce marketing focuses on eCommerce with specific eCommerce strategies (e.g. upsell, cross-sell strategies). It may focus on key online platform optimisation as well, e.g. optimising your Lazada, Amazon store for visibility.
4. Internet Marketing
Internet marketing is a term that is highly related to affiliate marketing. You are using digital marketing to generate leads for other businesses and getting a commission after.
In a nutshell, everything requires digital marketing knowledge but you will need different strategies for different purposes.
Why Doesn't Digital Marketing Help All Businesses?
I have a couple of friends who told me that they burned a lot of money with digital marketing and it didn't work for their business. After consulting them, here are the common traps I see.
Many people think that digital marketing will solve all business problems, but it doesn't work this way.
Limitations of Digital Marketing:
It cannot fix your business' fundamental economics problem (e.g. pricing or margin problems)

It cannot fix your product-market fit problem

It requires you to have a clear, concise strategy on you achieving your goal

It requires you to know your metrics clearly at each step of the marketing journey
For example, There are many Unicorn startups who does amazing digital marketing but are still making huge losses every year. Their problem was not a marketing problem but a business problem.
Digital marketing is about establishing an extra avenue to gain awareness and generate business.
Here are some action steps before doing digital marketing for your business:
Understand your business fundamentals

Identify who would likely need your products and services

Identify your key goal and other micro-goals that can help you achieve the key goal
Only if you are clear on these 3 points, then digital marketing could help you better.
Digital marketing role is to boost your business, not to fix your core business fundamentals.
What Digital Marketing Skills to Learn?
Digital marketing is huge. There are so many topics within digital marketing (it's insane). It is no wonder beginners get overwhelmed with the sheer amount of knowledge you need to learn.
No worries. While digital marketing multiverse is huge, you will realise that a lot of them overlap conceptually and technically.
The 16 core digital marketing skill-sets every marketer should know:
These are the key topics which we believe marketers should know. A marketer may not be a master of everything but they should know enough and understand how everything works together. There will be other platforms and also new technology which are variations of this core topics that you have to adapt to in the future.
We will never stop learning and the tech world will never stop evolving. The goal here is to have a marketer's mindset and learn to strategize as well as adapt to the ever fluid digital landscape.
Have a marketer's mindset and learn to strategize as well as adapt to the ever changing digital landscape.
Does Online marketing Course Certification matter?
There are plenty of certification out there! Obtaining a certificate can be a good gauge of your knowledge level relating to certain topics and platforms as well as your drive to learn.
‍
Here are some digital marketing certificates you can look into:
1. Facebook Blueprint Certification
The is the certificate provided by Facebook where it will test you based on your mastery of its advertising platform. It cost USD$150 every time you take the exam and it is only valid for one year.
Facebook advertising platform evolves a lot within the year as Facebook introduces new advertising options and formats. It is no wonder they cap the validity to only 1 year.
To learn more about Facebook Blueprint Certification.
‍
2. Google Ads Certification
Facebook advertising platformGoogle ads certification will test you based on your mastery of Google Ads Search, Video, Display and more. Similar to Facebook, the validity is only for 1 year as it is always evolving. The bright side: it is FREE! (YAY!)
To learn more about Google's Certifications.
‍
3. Digital Marketing Quantum Degree
This certificate is provided by NEXT Academy. It requires you to go through different course topics (which we covered under digital marketing skills). You are encouraged to use a business as an example and strategize on how to market the business using the 12 different digital marketing topics.
This course is suited for business owners and for people who aspire to be digital marketers as they will immediately be brainstorming and implementing the digital marketing strategies.
To learn more:
Keep in mind that certificates does not determine if you are a good marketer.
Just like everything else, marketing cannot be purely theoretical. In fact, marketing is a human centric discipline which requires you to understand and empathise with your audiences. Regardless how many certificates you get, you should always have hands-on experience because different industries require different strategies.
How to be a good digital marketer?
You may have heard of a few school of thought on what makes a good digital marketers. Some say to be a generalist or a specialist. Recently, the term "full-stack digital marketer" came about as well.
Full stack digital marketer is a term for someone who knows enough of the different verticals within the digital marketing landscape to create a holistic marketing strategy. These marketers are generalist.
Let me introduce to you another term: T-shaped marketer.
What is a T-Shaped Marketer?
According to the Buffer:‍
A T-shaped marketer is both a generalist and a specialist. These marketers are well versed with the core digital marketing skill-sets. They have the ability to understand how different areas of marketing could work together to reach a business goal. Beyond that, they specialise in certain fields.
Here's an example: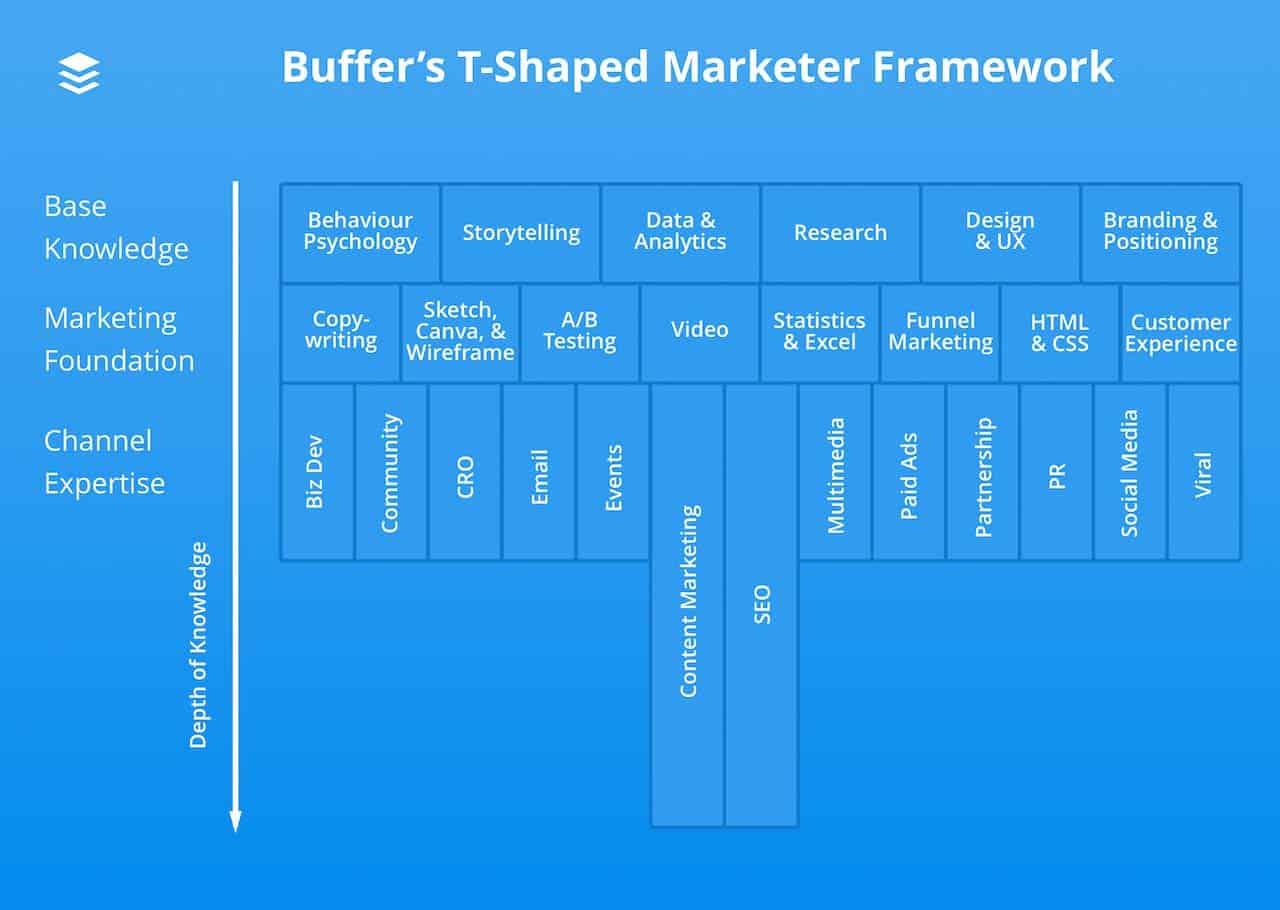 The way Buffer puts it: The vertical bar on the T represents the depth of related skills and expertise in a single field, whereas the horizontal bar is the ability to collaborate across disciplines with experts in other areas and to apply knowledge in areas of expertise other than one's own.
The 2 keywords here are: expertise and collaboration.
No marketing efforts should be done in silo. If you want to be a good marketer, make sure to prepare yourself as a T-shaped marketer.
Here is a quick checklist of what makes a good marketer:
Be a T-shaped marketer.
Always seek to understand and empathise with your audience.
Keep a lookout for other people's marketing effort
Be data driven. Everything you do should be backed by data.
Be up-to-date and never stop learning.
Never stop experimenting.
Ready to learn digital marketing?
Take the first step in learning. You miss 100% of the shots you don't take.