DIGITAL MARKETING TRAINING PRODUCT LAUNCH BOOTCAMP
Part-Time | 5 Weeks Training
Build And Execute Real-World Digital Marketing Campaigns While Launching Real Life Products
Some of the great companies that have hired our graduates
Physical / Onsite, 5 Weeks
12 different topics: Website, paid advertising, SEO, social media and much more.
Digital marketing background is not required. Should at least have Facebook & Instagram account.
Ready To Launch Real
Products?
Join Us For A Face-to-Face Mentor Guided Approach On Launching Digital Marketing Campaigns. What is better than launching real products and having the first hand experience to create your marketing funnel for leads and sales?
In 5 weeks, master in-demand skills and obtain a 360-degree understanding of the digital marketing ecosystem. Receive real-world experience in digital marketing that will get you ready for a career in digital marketing or accelerate your company's growth.
Career Pathways
eCommerce marketer, online marketer, digital marketer, roles that requires any specialisation within digital marketing
We're constantly reinventing our teaching models and challenging the way we deliver our courses.
Launch Products From Scratch
By the end of the bootcamp, you should be able to turn your marketing ideas into reality. Learn to incorporate digital marketing know-how from the Quantum Degree to launch and promote real products.
Create Fully-Functional Funnels
You'll put what you've learned into action — customer avatars, marketing funnels, landing pages, SEO, FB, Google and much more. We've set aside a budget so that you can run the campaigns too. Here, you will learn how to strategize and put different elements of digital marketing together in your marketing funnel.
Leverage On The Power Of Tech
Who doesn't love a bit of AI? Learn to implement a chat bot to enhance the customer experience. It's also a great tool to address routine inquiries, freeing you up and allowing you to focus on higher-level ideations.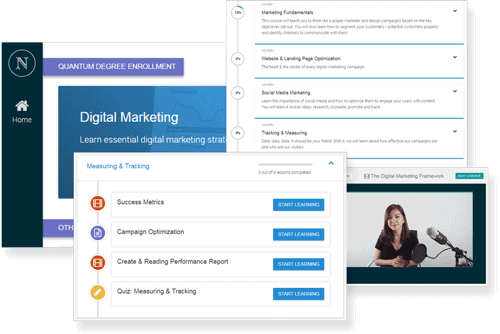 Digital Marketing Quantum Degree®
You get access to Digital Marketing Quantum Degree® which covers 12 extensive topics and we'll be using these as the base when we discuss concepts and build marketing funnels. Feel free to start learning these bite size lessons on the go!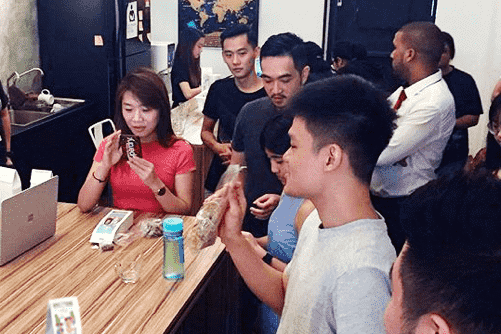 Network & Discuss Marketing Strategies
Every Thursday during the 5 weeks, we will meet up and discuss about the digital marketing concepts to get ready for the Saturday's implementation. It is a great time to network and bounce ideas off each other.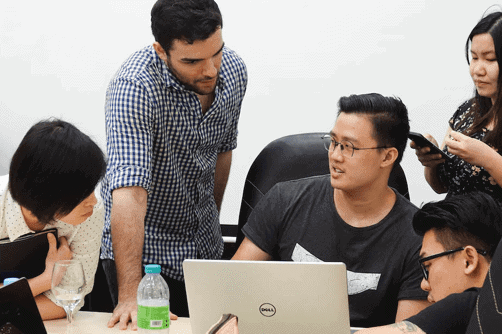 Launch Campaigns Under Supervision
Every Saturday during the 5 weeks, we will be working in teams to implement our knowledge and build marketing funnels together. You will learn that as a digital marketer, versatility and teamwork goes a long way.
Here are the highlights on what you will be getting!
Onsite/ Face-to-Face Product Launch Bootcamp
Tuesday: 7.30pm – 9.30pm
Saturday: 10.00am – 4.00pm
Come to class and get ready to be hands-on in execution
5 weeks Only

Tuesday in-person Discussion

Saturday in-person workshops

Advertising budget to run ads

Build real world campaigns

Launch real products

Personalised Mentorship
Addtional 🔥: Digital Marketing Quantum Degree® Access
Anytime, anywhere. 
Prepare yourselves before the onsite class!
Learn on the go and we will discuss these concepts in class
12 Topics of Digital Marketing (Online)

Lectures and hands-on challenges

Online Q&A portal where you can ask questions anytime
We're constantly reinventing our teaching models and challenging the way we deliver our courses.

One of the ways we do that is by engaging with employers, getting their feedback on what they look for in hiring talent. We are also engaging business owners and online entrepreneurs, learning about the challenges they face in starting and growing their businesses.

This program is our solution to bridge the gap between companies and aspiring Digital Marketers, as well as giving aspiring online entrepreneurs the opportunity to launch real products to the world.
Our curriculum is designed in such a way that each topic builds onto one another.
What is better than learning and implementing digital marketing concepts? As a digital marketer, it's time to grow your versatility and put your knowledge to good use by implementing a powerful marketing funnel for your product.
We will be using different advertising tools and platforms in the process.
Click to see what the Digital Marketing Quantum Degree covers
You'll have to make sure that proper tracking is recorded across all platforms — such as Google Analytics, Facebook Pixel, and Google Adwords — because this will help you attribute your traffic sources correctly. Save precious time (and money) by learning how to manage your tags better with Google Tag Manager (GTM).
You might have tons of ideas you want to realize. Is there a way to test which one works better before doubling down on a campaign? Well, yes! You can get empirical evidence through split testing (also known as A/B tests), which will allow you to make informed business decisions. You will implement split tests on your ads, landing pages, and even emails.
Make use of helpers that never sleep. How can you further enhance your customer experience, especially if they belong in different timezones? You will learn how to build messenger chatbots to communicate and reach out to your customers, even while you sleep.
Ready To Learn Digital Marketing?
MYR 4,950 or MYR 412.50/mth*
*Applicable to Malaysian Maybank Credit Card holders.
** We accept payments via Cryptocurrency.  
HRDF Claimable
Check with your HR department today to check if they can send you for this training & be reimbursed by HRDF! 👍
For companies who wish to make HRDF claims, please submit your application to HRDF at least 3 weeks prior to the course start date to ensure successful approval by HRDF
No digital marketing background required

At least have a Facebook and Instagram account (for platform familiarity purposes)
English

Full-time Onsite | 5 Weeks / 40 Hours
A Certificate of Completion will be provided upon 100% completion of the course
73A, Jalan SS20/11, Damansara Kim,
47400, Petaling Jaya, Selangor, Malaysia
JUNE, 2021 (POSTPONED DUE TO MCO)
In-person Classes on Sat (10am - 4pm): TBC
[Live Online Lesson] Classes on Tue (730pm - 930pm): TBC

Contact us at [email protected] for seats availability.
JUNE, 2021 (POSTPONED DUE TO MCO)
In-person Classes on Sat (10am - 4pm): TBC
[Live Online Lesson] Classes on Tue (730pm - 930pm): TBC

Contact us at [email protected] for seats availability.
Looking for a future intake?
Join the online Digital Marketing Quantum Degree® first then join the face-to-face class later!
FYI:
Upgradable – If you joined our online Digital Marketing course previously, you can upgrade to this course by only paying the difference.
Our graduates join us from all walks of life, find out what they have to say about us!
Adrian Ling
Digital Marketer and Hotelier
"After learning digital marketing at NEXT Academy, I was able to use the knowledge I gained and apply it to the company I work at. I am able to modernize my company's digital marketing structure and bring brand new ideas to the table."
Fion See
Founder of Sticker Bear
Every entrepreneur should learn digital marketing because they can reach a wider audience out there, like people who they would not expect would actually buy their products.
Jia Chie
Marketing Consultant
"I loved the fact that we started on solid fundamentals, and that it was a hands-on experience from day one. It was also great to have a bunch of classmates and mentors I could connect with."
Charmaine Sze
Digital Marketer
"Expect to be absorbing constantly because there is a lot to learn. After the course, there are networking sessions and events as well! Collaborative community."
Frequently Asked Questions
Our Program
Career Prospects
Enrollment & Payments
Our Program
Career Prospects
Enrollment & Payments
Ready to be a Digital Marketer?
It's time to transform your business idea into reality.