HIRE SOFTWARE DEVELOPERS & DIGITAL MARKETERS
NEXT Academy has trained over 1200 developers and digital marketers from 40 countries in the past 3 years.
Chat with them and hire them remotely or locally, wherever you see fit.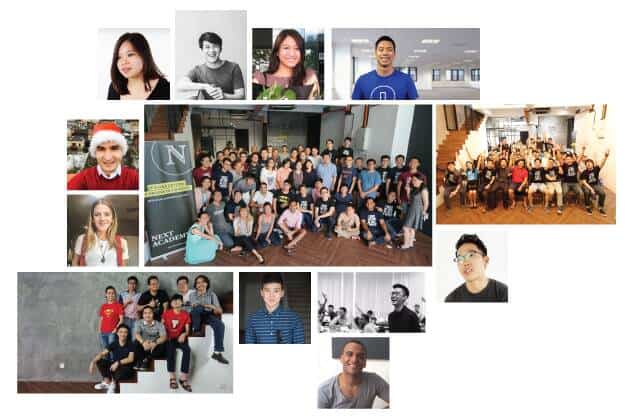 Have a look at our course curriculum to understand what we cover.
Full-stack Web Developers (Python) HTML, CSS, Javascript, Bootstrap, ReactJS, Python, Flask


Frontend Developers (HTML, CSS, Javascript, Bootstrap)


Frontend Developers (ReactJS)


Digital Marketers Paid advertising, Social media marketer, Landing page optimizer, Copywriter etc+
Want to have a glimpse of what our students can do?
Check out the coding final projects which our students built in just 2 weeks!
Our students at NEXT Academy come from a variety of background, many of which had no coding or digital marketing background prior to joining us. Today they are hired as developers and digital marketers in startups, agencies and also big MNCs.
Reach out to tech talent that has coding and/or digital marketing skillsets
Keep the job description to roles that require coding or digital marketing skills. Specify the roles properly (e.g. digital marketing verticals, or coding tech stacks) to ensure clarity.


We accept legally registered companies only
Graduates are seeking employment because they want to learn and hone their craft further. To ensure the quality of employers in the system, we would only open this up to actual companies.


Having seniors in your team is a plus point
The best way for our graduates to improve is to work in companies with senior tech talent onboard whom they can work together with and learn from. If you have senior talents, please specify it clearly.


Request for graduates' portfolio
Our philosophy is simple, let the students' work speak for itself. Our students may not have any coding or digital marketing background prior to joining us. Nonetheless, we have employers who were amazed with the students' portfolio and have no regrets hiring them as permanent staff.


Our graduates may have working experience in unrelated fields
☺️ At NEXT Academy, we have students who have working experience in predominantly unrelated fields for a couple of years. They wanted a career change and most are willing to start from scratch.


Choosing a job is a personal decision
It is up to the students if they are interested in your job post or if they choose to join your company.
You Can Find Our Grads Here
Sometimes we ourselves are surprised to find our grads in unexpected places too!
Join Us As Employer Partners
Note: Currently, the initial pilot for employer partners is only for coding related talent. For now, the same programme doesn't apply to Digital Marketing but you can still reach out to us for talent.
"You miss 100% of the shots you don't take"
Sign up now and learn new skills.