The May intake of the Digital Marketing Quantum Degree™ recently ended and we sat down with one of our graduates, Eunice Law to find out about her experience with NEXT Academy.Here's how our interview with her went: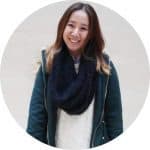 Eunice Law, Digital Marketing Quantum Degree® Graduate
Tell us about yourself
‍I'm a pharmacy graduate and am currently working in an American pharmaceutical company doing Regulatory Affairs. This means I bring new innovative medicines to the market by registering them with the Malaysian FDA.
‍Why digital marketing?
‍The main reason why I decided to pick up this course was because I've always harbored entrepreneurial dreams. Also, I was amazed at how you can reach a huge target audience with just one touch of a button through digital marketing. Its ability to target people based on demographics, interests, behavior — and then remarket to them later is really powerful as well!‍
What were your initial thoughts about the Digital Marketing Quantum Degree®?
‍Initially, I expected the course to be quite conceptual and basic, since it was for beginners like myself. But as I progressed further into the course, I realized it was also quite technical, as the course also covered the technical know-hows — analytics & performance measure, keyword research, etc.
‍Share your learning experience with us‍
The whole learning experience throughout the 12 weeks was quite interactive. The learning portal underwent several makeovers throughout the 12 weeks, which showed how the NEXT Academy team is always hard at work improving the learning experience.Within the course, there was always a short quiz after the videos, which helps students recall what they've learned in the videos. Also, if you have a burning question at any point during the course (I always tend to have questions at 1 a.m.), you can put it up on the Digital Marketing community page, where mentors and classmates would then answer you online.I was very fortunate to be able to join the blended-learning class, where we met face-to-face every Saturday for group office hours. This is when we get to work on our assignments, present them to the class, and receive feedback from mentors and classmates on the spot, it greatly assisted my learning. Besides that, it was also a great opportunity to network with people.
‍What were the tough parts about the course?
‍What I found most challenging was trying to implement everything from weeks 1-9 all at the same time! Learning the different topics week by week was quite bearable. But when you're actually implementing them, you don't actually do them separately.While I'm running my Facebook ads, I'll feel that my landing page isn't optimized enough, and when I return to optimizing it, I'll have to draft a new content strategy as well as email marketing — it can get pretty hectic!However, it was all worth it, as it was the happiest day for me when I successfully created my landing page and launched my first ad. Not forgetting, being able to meet so many new friends from different walks of life was great too.‍
Name one most prominent skill you picked up from the course
‍I've learned so many great skills! But if I were to choose one, it would be writing persuasive copy, because I think writing copy transcends all the channels — FB ads, email, SEM, SEO & content. I especially enjoyed writing headings, subheadings, unique selling propositions, and putting them together on my landing page.
‍How did you apply your newfound skills to your life?
‍My parents recently started their own real estate and valuation company, so I took it into my own hands to help them with marketing. My parent's business is my practice grounds at the moment. I first started with creating social media accounts and the company website. I also started a property blog to put up original content to educate, delight and create brand awareness. This was where I was able to apply skills on keyword research and SEO. On social media channels, I started using scheduling apps such as buffer and preview to schedule posts, most of which are curated content (news articles, quotes, other sites' blog posts), with some original content (from our own property blog). With the tips and formulas provided by our mentor Xinch on writing good copy, I also created lead magnets and landing pages specific to different customer avatars. I've also ran very specific social ads and email marketing campaigns as well.
‍What's NEXT for you?
‍I will still continue working on my family's real estate company, maybe try out different ad formats, make further improvements, learn how to track performance, and tweak my strategies effectively. I would also like to try my hand at doing as a part-time intern or freelancer, just to keep learning.
It was great to have you with us, Eunice!