Content marketing. What is it? That's a very normal question if you haven't heard of the term before. If you're looking for a TL;DR, it's basically marketing through content creation. But if you'd like to learn more, just read on.
Let's start with some examples. A good one would be an online store that creates blog posts about how to style specific outfits, or how to pair certain types of shoes and clothing. This resonates well with the store's customer base, as they can see themselves wearing those clothes and can relate to the outfit examples shown in the post.
So, even though it's not directly advertising products from that brand, it has become content marketing because it promotes ideas and trends that will lead people back to their site for more information. This becomes even more complicated when you realise that everything from videos to podcasts can also be content marketing as well.
In the past, content marketing typically required a large budget and large team. However, the advent of social media has made creating content faster and more affordable than ever before. Now you can create a plan for generating high-quality content that gets shared across multiple platforms at little to no cost.
The amount of time people spend online has increased dramatically too, so there is plenty of room for brands to reach out to their target audience with carefully crafted content. So maybe you can't wait to get started on content marketing. What is the next step, you may ask?
When it comes to content marketing, what is the best way to get started?
If you're convinced and want to try content marketing today, what you can do is to take the steps below to begin your journey into the fun world of being a content creator.
Do your research
First things first, you'll have to review your competitive landscape. Who's doing what? What are they doing well? What could be improved upon? Use this information to create goals for your campaign.
What should you look for during the research phase? You should check out what medium your competitors are finding success in. Is video , audio, or text better for you? Is that where your audience is?
What pain points are your competitors solving through their content? Are they providing value through entertainment or education? By simply keeping an eye on your competition, you'll get a very good idea on how to craft your content calendar.
Speaking of content calendars…
This is another important thing to ask yourself about content marketing. What is a content calendar? Basically, it's a tool that allows you to plan your posts ahead of time so that they're scheduled for optimal posting times.
There are also tools like CoSchedule and HubSpot that allow you to collaborate with team members, prioritise your work, and ensure that everything gets done in time for publishing.
You will definitely want to look up examples of content calendars to keep you on track, especially when you begin to post content across different platforms. We'd cover this here, but that's a topic for another article!
Produce amazing content with no intent to convert
The most important part of content marketing is producing great content for your customers. You can't sell them anything if they don't like you or the company you work for. The goal here is to create something without any expectation that it will ever lead to an intended conversion (sales, downloads, etc.).
If someone likes what you offer, they'll naturally want to buy from you regardless. But the trick is to first draw them in without hard selling.
Ask yourself these questions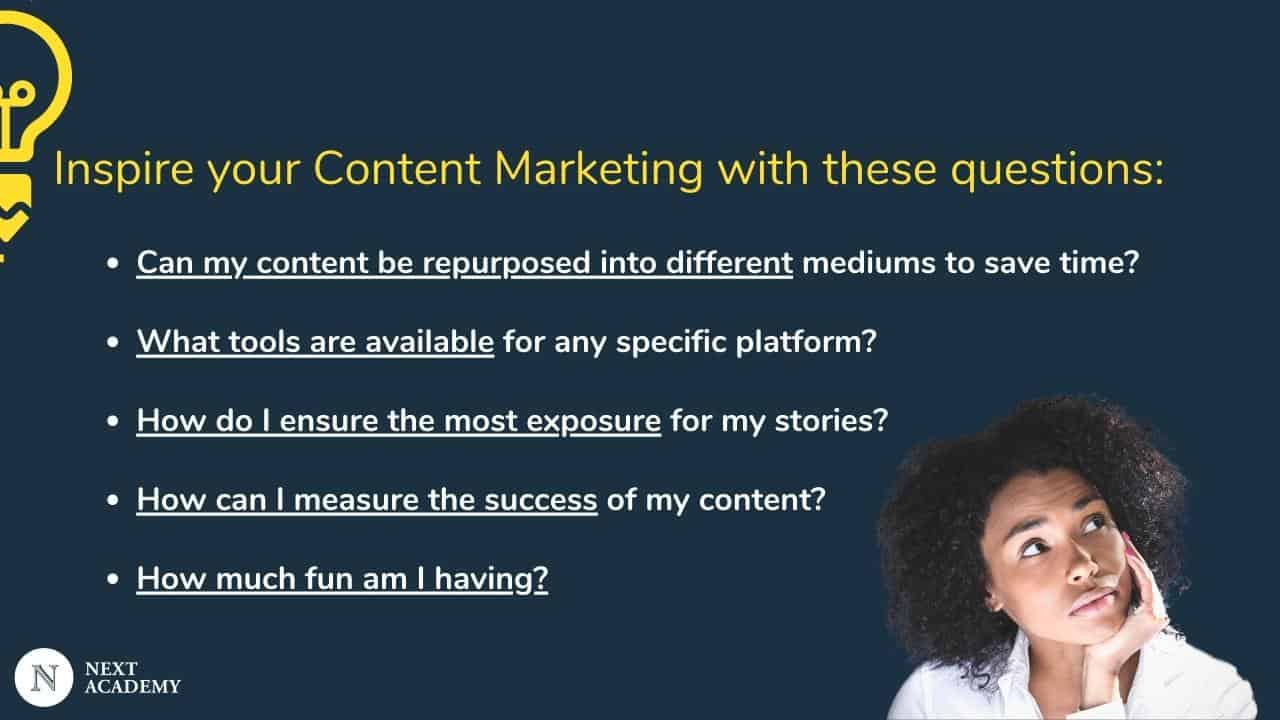 So you're ready to start going down the road of content marketing. What is the next best thing to do? We suggest asking yourself these questions to further inspire those ideas:
Can my content be repurposed into different mediums to save time?
What tools are available for any specific platform?
How do I ensure the most exposure for my stories?
How can I measure the success of my content?
How much fun am I having?
The last question is surprisingly relevant, as many companies tend to put out content they're not passionate about, and when the creators aren't having fun, neither will the viewers.
Who can you check out for inspiration?
If you're looking for personalities who make great content, do check out these people, in no specific order:
Does content marketing really work?
There's no denying it. This is the era of content and content marketing. What is more, you're consuming one such piece of content right now! One important thing to note is that content marketing isn't a get-famous-quick scheme, and it requires a lot of work and effort. But do it right, and you'll be able to reach out to a wider audience than otherwise.
Regardless of the industry you're in, content is king. If you don't have the time or resources to create your own blog posts, videos, and other content marketing materials, NEXT Academy can help you out. We offer a variety of courses that will enable you to produce better content for your business or personal use. Learn more about our digital marketing courses today!
If you are interested in learning more about Content Marketing, you should check out 7-ways-become-talk-town-content-marketing .