Facebook Messenger chatbots keep popping up again and again. You've seen the blogs and the headlines.
Probably time to look into it more for your business. Early adopter's advantage and all.
Chatbots are changing the ways companies of all sizes connect and communicate with their customers.
And it's most definitely changing it for the better.
Here's what sold me on chatbot messaging as a powerful new tool in digital marketing. And why I decided to jump all in (literally, I started MobileMonkey, a Facebook chat building software.)
Chatbots Aren't Going Anywhere
Why use chatbots for business? Facebook Messenger has a much higher open and clickthrough rate than email. (Businesses are earning a 60%-70% average open rate within the first hour.) It truly is a unicorn marketing channel. And yet many marketers still drag themselves through hundreds of A/B tests just trying to get a little more engagement on emails.
Don't get me wrong. Email marketing still holds value, but there's a time and a place. People seem to want results from email the way they did a decade ago. Things have changed and consumers now feel email fatigue from the thousands of messages in their inboxes.
Though digital marketers have the right motives, and perhaps the right messages, they're losing out on a huge opportunity.
Chatbots! A powerful tool in digital marketing.
When you want to get in touch with a company – regardless of whether you have a customer service issue or simply want more information — you want answers fast. No one wants to wait for a reply.
That's where Facebook Messenger chatbots come in. Instant gratification for your customers.
It's not only desired by consumers in today's modern world but expected. In return, you get hot leads and so much more.
Not convinced yet? Here are some facts that first persuaded me:
1.59 billion people use Facebook Messenger.
11% of the world's population use Facebook Messenger every month. (Pretty impressive!)
Over 260 million new conversations are launched on Messenger each day.
Messenger apps have more users than social media now. This highlights users' desire for real-time interactive conversations, over the broadcasting style of early social networks.
Anyone who interacts with your chatbot becomes a contact. You can message them for free for 24 hours after interaction.
There's huge automation potential. Standard customer service questions, basic information, answer FAQs — you name it, the chatbot can do it.
Facebook Messenger bots can have a sequence, just like email drip campaigns. Except, there are way more options. And it's interactive.
Those sequences are also more efficient than emails. You don't have to wait days to send over fears that you'll exhaust your audience. As opposed to email, real-time conversation is encouraged!
You can get much more detailed information about your consumers: Age, location, education, appearance.
Messenger chatbots are fun. Pre-filled answers make it easy for consumers to reply, and you can populate the chat sequences with gifs, memes, and personality.
You can make digital marketing as personalized as one-to-one sales.
How to Make a Facebook Messenger Chatbot (in 5 Minutes)
So, here's how to step up your game.
First, create a Facebook chatbot in 5 minutes or less. The marvellous part? It's free and easy.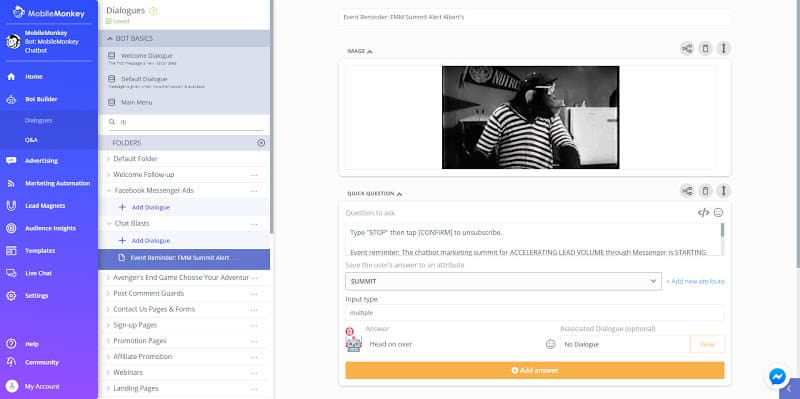 Using chatbot software like MobileMonkey, you can begin by connecting your Facebook page to the platform, and then choose from several chatbot templates that fit your business vertical. From an e-commerce focus to health, restaurant or personal training to real estate, lead generation to communities — there's a template for everyone to get on their feet with Facebook Messenger bots.
Then, get customizing.  
You can import templates in on top of others. So, if you want both lead generation and e-commerce, you can drag and drop to make the right blend for your business. Want to run a survey on your podcast? Go right ahead.
Templates are just a way for you to get started. You have total customization opportunities to personalize the chatbot to your business and brand voice.
Once you have a bot up and running, go ahead and test it out.
It's fun, isn't it?
You can customize further by setting up a drip campaign or taking advantage of some Facebook Messenger best practices.
Facebook Messenger Chatbot Best Practices
Like email blasting, but with a much higher ROI.
Send out messages to all your Messenger contacts. There are no spam filters to navigate and you won't be at the bottom of a user's inbox, never to be seen again.
Plus, all your Facebook Messenger chats come with a notification alerting users to your new message.
You can alert your contacts about a new product or sale. Share interesting information from a study you've done or push out a promotion code.
I like to highlight tutorials and send new users to related content where they can learn to build a bot. You can also offer free downloads or eBooks.
The opportunities are limitless. Which brings me to my next point.
Keep copy upbeat, light and fun
A new digital marketing tool that gets results! Don't blow it by copy and pasting your email copy into one long Facebook Messenger blast. That's not going to cut it with chatbot marketing.
Keep your copy light and fun. Use emojis, images, and gifs if suited to your company. Then chop up your messages into bite-sized pieces and let your contacts interact.
Optimize buttons and CTAs  
You know your email CTA buttons? Use more of them in Facebook chatbot marketing.
Consumers don't want to type out replies. Give them some options like, "Yes, I'm in!" or a simple "Want to learn more?" with a thumbs-up emoji.
Button navigation keep users engaged and responding. Plus, they can help you personalize the chatbot conversations further by providing some click options for users. If they're more interested in recipes over the research on your healthy living site, you know what to give that particular user more of.
You can also collect contact information pretty quickly when you're using buttons to fill out a form. It's easy to confirm email, city, phone number, name, and more. All your contacts have to do is tap.
Use a Comment Guard to grow your audience
This is the best way to grow your contact list, and my personal favorite Messenger chatbot hack. Of course, you can't chat blast just anybody. There are no lists being sold on Messenger, and that's a really good thing. (Otherwise, Facebook could view chatbot marketing as spam.)
So, how do you grow your contacts? Anyone that interacts with your bot becomes a new contact so, drive people to your bot! You can even add the Facebook Messenger bot right to your website through a WordPress chatbot.  
With MobileMonkey, you can also use Comment Guard, which is a fantastic way to boost engagement and gain contacts. It's essentially a Facebook messenger auto-responder that writes back to any user that leaves a comment on your page posts. You could simply post a survey question like "What's your favorite food to eat for breakfast?" Every time a person comments, they'll get a Facebook Messenger notification with a note from you. Any user that responds to your prompt is added to your contact list.
Easy, right?
Facebook Messenger chatbots are making waves in digital marketing. And the opportunities are endless. Check out these chatbot tutorials on how to get on board with a bot for your own business and experience a new level of consumer engagement today.
‍
Author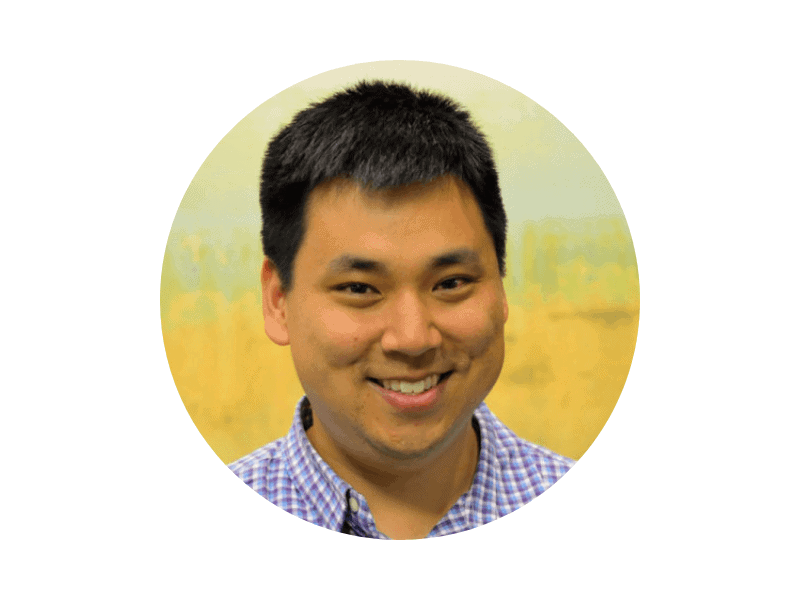 ‍
Larry Kim is the founder and CEO of MobileMonkey, the world's best Facebook Messenger marketing platform. In addition to that, he has been named Search Marketer of the Year by PPC Hero ('13, '14, '15 & '17) and many others. He writes articles for CNBC and Inc. Magazine. He is a real unicorn marketer and speaks at conferences and shares his knowledge through blogs on renowned websites, such as the WordStream Blog (the first company he founded) and Business Insider.