"No matter how easy your life may seem, never forget the struggles as they will drive you to do better."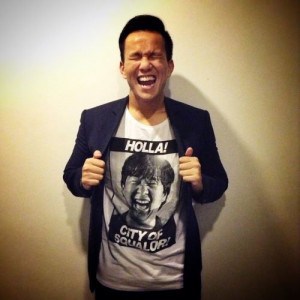 "I was driving home in a traffic jam and had the sudden realization that I didn't want to continue what I was currently doing."
Name: Mohd Hadi bin Mohd Irwan
‍Hometown: Subang Jaya
‍More about Hadi:
Graduated with a degree in computer science from Sunway University
The second child in his family
Loves traveling, parties, soccer, cars, sharks, sleeping when it's raining, making people smile, extreme sports and eating well
Works out often (but not often enough)
Dislikes steamed chicken rice, douches, ratchet girls and leeches (human and animals)
Before joining the bootcamp, he was working as an Analyst at a mining company from Brazil, specialising in managing, planning, deployment and other aspects of procurement
‍
How did you get to know about the bootcamp and why did you choose to join it?
‍I got to know about NEXT Academy's 9-week web development bootcamp from a friend who is a resident entrepreneur at MaGIC. I decided to do more research on it and finally took the plunge to quit my job and join the bootcamp.
‍Did you finish the bootcamp with any notable changes to yourself?
‍Definitely, I learned more things about web application development than I ever thought possible, and I feel that it has set me on a path that I can walk on someday.
‍What were some of the most challenging parts of the bootcamp? And how did you overcome them?
‍Learning how to code. Ruby can be a b***h and punish you sometimes! Seriously, it isn't a picnic but I learned that you have to put extra effort into learning something new like this and enjoying it is a part of the learning process.
‍What were some of the most enjoyable times you had during the bootcamp?
‍Seeing those lines of code transform into something magical, it's AMAZEBALLS. I guess that's how Dr Frankenstein felt when his monster came to life. Learning all aspects related to web development is awesome and truly beneficial.
‍Were you exposed to coding before this?
‍A little bit in university; C++ and Visual Basic but nothing like this. Truth be told, I don't even remember what I learned back in school.
‍Any big plans coming up?
‍I've got some ideas in the think tank but will be brushing up on my new skills before running away with it.
‍Do you have any advice for anyone trying to learn how to code?
‍Make sure you are interested as it requires time and effort to learn. Learning to code is easy; being persistent is hard.
‍Any advice on how future participants of the bootcamp can prepare before joining the bootcamp?
‍Do the prep work. It can save your life.
‍Do you have a role model? Why him/her?
‍My Mom and Sir Alex Ferguson. Their drive to succeed is so strong that none of the shortcomings in their lives could hold them back.
‍Any more words of wisdom or shout outs?
‍"99 problems but a b***h ain't one." – Jay Z.
I would like to give a shout out to Master T and the Fab 2 (Rizal and Aidil). My peeps from the October and November intakes, as well as the other two "ghost" mentors (Karg Weng and Dr Lau) and of course NEXT Academy and MaGIC for giving us this opportunity to be cool.
‍At NEXT Academy, our students come from all walks of life. This is the reason why we strive as a community – we learn from one another and are all united with the desire to do better and have a common goal of wanting to make an impact on society whilst growing ourselves especially in our career and in our personal lives.
Hadi graduated from our October 2014 intake.