Many people came up to me and asked, "Hey! What are your graduates up to these days?"
I think having the graduates themselves share with you directly is probably more convincing.
So Josh Teng (just so you don't know who he is, he's the founder of NEXT Academy) invited some of our past students to talk about their lives post-bootcamp and how they used their coding skills to rock the world.
Our guest: Mak & Yuh Wen, Cofounder of SushiVid
Mak & Yuh Wen first met at NEXT Academy Web Development Bootcamp back in 2014. Aside from being a full on foodie (which we realised most of our students are anyways), the mad and funny duo are like fire & gun powder creating an awesome display of fireworks whenever they are together.
In 2016 this year, they co-founded SushiVid together, a platform to connect influencers and brands. SushiVid was chosen by DBS Bank to join DBS Accelerator Programme in Singapore.
When they started their company, they took on a very different approach. Instead of looking for an investor, the first thing they did was to hustle their way to get users and customers to use their platform.
Both Mak & Yuh Wen will be sharing with us about their experience learning at NEXT Academy and how they used coding to pursue their bigger dream, which is to build a tech startup in an industry which they are passionate about.
Enjoy!
‍…How much can an influencer earn!?
According to Economist.com… If you're an influencer with amazing following, here's how much you can earn.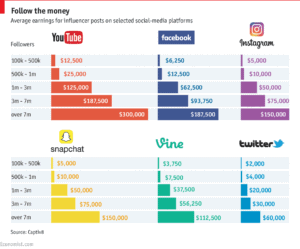 This is damn crazy… Apparently, it's PER POST!
If you would like to learn more about what other students think about us and even to listen to their stories, please feel free to check out NEXT Academy Reviews or NEXT Academy stories.
…if you want to know more about the bootcamp Mak & Yuh Wen joined…
Be it building your MVP/prototype or learning how to market your business, here are some resources which you should definitely check out.
Who knows? You might be able to find your co-founder here.