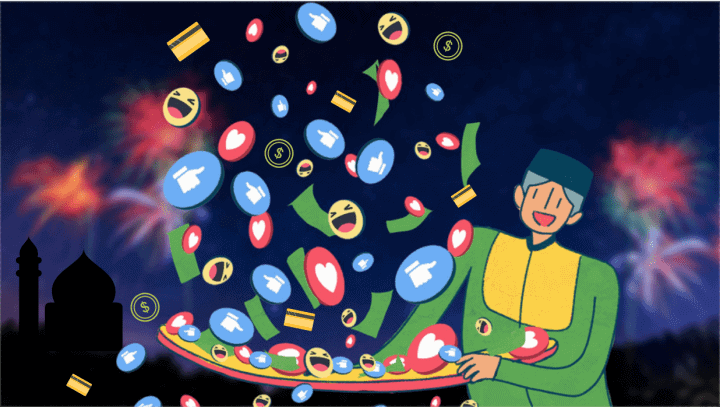 There is often a myth about Ramadan being the low season for businesses. Well, not if you're doing it right.
What you need to understand is that Ramadan is a significant holy season. It is a time of fasting, spiritual growth and family bonding. It is also a time of forgiveness and compassion.
All this will undoubtedly affect behaviors. It could be altered sleeping- and waking-times, empty lunch halls, fully-booked restaurants in the evening as Muslims anticipate the time for breaking fast.What do all these mean to digital activities, content consumption and even spending? What are people looking for?
Here we have some insights from Facebook Ramadan Playbook 2019 (Malaysia specific) which cover both Facebook and Instagram platforms. As digital marketing mentors, what we often do is break down the insights and share what it may possibly mean to you.
Here are the areas we'll be looking at on how you can use it to your advantage to win customers:
How will Ramadan change the behavior on usage of devices?
Are there any specific behaviors that happen only during Ramadan?
What themes of content are people more engaged with during this period?
What sort of content format do they consume?
Ramadan related Facebook Posts pick up
Conversation is the key to conversion
Engage! (we threw in some Bonus on how to link your IG to Whatsapp too!)
‍
📱 How will Ramadan change the behavior on usage of devices?
No one can argue that mobile is dominating.Global Web Index (GWI) noted that mobile time spent during Ramadan period is growing at 5% year-on-year for Malaysia.
Based on Facebook data during 25 April–31 July in 2017, Facebook noted that people shared joy by posting 41% more during the Ramadan period (26 May–25 June) compared to other periods.
From Facebook Ramadan Playbook (Malaysia), here you can have a good idea of smartphone usage in a day.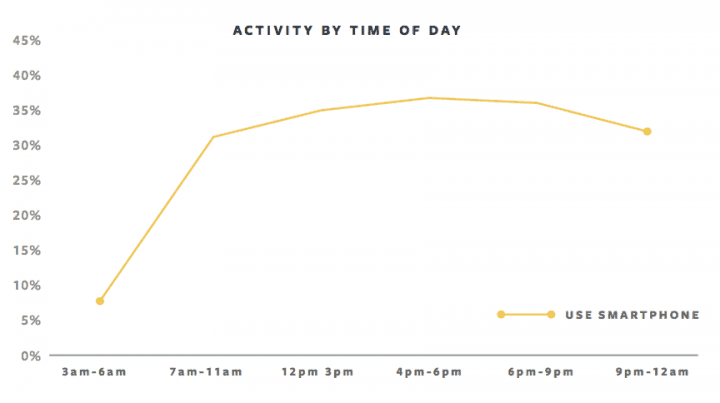 What's the takeaway from this?
It is not the amount of time spent that intrigue us, it's the fact that people are sharing and posting more actively during this period.
This means that they're sharing content that resonates. They will share them with friends and family. So if you get your angles and content right for your brand that resonates with Ramadan, you can likely ride the wave to virality.
There are a lot of good branding opportunities during this period. Personally, I would love to call this 'the celebration booster period'.
If you want a shot at virality, this is definitely a good time to try it out!
☀️Are there any specific behaviors that happen only during Ramadan?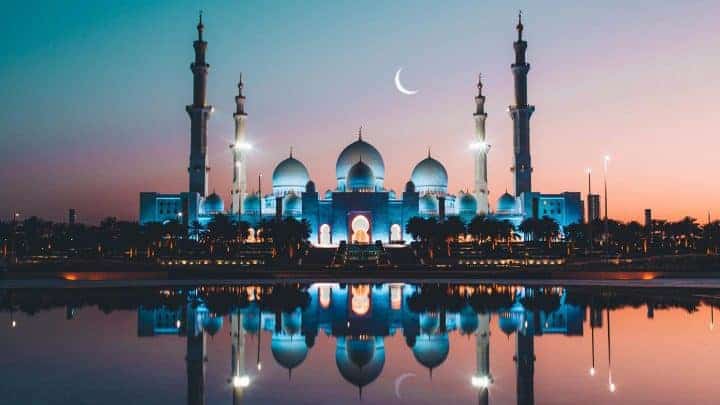 During this season, there are 3 significant events. Prayer times, sunrise and sunset, as well as breaking fast. If you don't already know, here's a TL;DR of a day during Ramadan:Muslim friends wake up early for sahur, the pre-dawn meal, which happens around before the morning prayers (which is about 5-ish). There will be no food and water after sunrise, all the way until sunset. In the evening, there'll be a lot of anticipation to break fast and it is often done with family or with friends.
What's significantly different during this Ramadan is the sahur.
(Caveat! This is for the United Arab Emirates (UAE), but we believe these insights may show some indications to how our Muslim friends in Malaysia will be like)
Users on Facebook increase up to 200% from 2am – 5am.
Mobile sharing increases up to 20-30% from 12am – 5am.
4.16x more conversions at 4am compared to non-Ramadan months
4.84x more conversions on mobile during those times
What's the takeaway from this?
The pre-dawn meal is a very important event. Though this is based on UAE data, we believe Malaysia will show some inclination towards this habit as well.
The moment they miss it, they will not have a chance at a meal until sun down. It also involves setting up the meal and having to take the morning meal together with the family.You could say, "Well, 2am – 5am is still not exactly the peak time compared to 12pm – 11pm."
While it's not surprising that more online activity takes places during the latter timing (I mean, everyone needs to wake up for this crucial meal right?), what is interesting is the conversion rate — in UAE, they are 4 times more likely to convert during 4am. It may be a smaller target market, but 4x conversion rate means, 4x LESS in your customer acquisition cost/ Cost per conversion.
The math is no brainer.

While we do not know exactly if Malaysia has the same stats for conversion, we do believe that there may likely be a higher conversion rate compared to non-Ramadan period.
Our hypothesis:
Since they share and post 41% more during the month of Ramadan, and IF Malaysian muslims exhibit a similar behavior when it comes to conversion during sahur, we believe there should be good opportunities for referral marketing.
You can plan out content posts or campaigns according to the shift of their behavior and prepare angles that may influence them at these peak timings. You can even throw in sales or deals for them to refer to a friend or family member.
While we don't have data of conversion rates for Malaysia, we believe this is a good time to test this hypothesis.We'll touch on angles in a bit. Stay tuned!
‍
👨‍👩‍👧 What themes of content are people more engaged with during this period?
According to Facebook's Ramadan playbook 2018, Kantar research commissioned by Facebook noted that "Malaysians deem the topics of religious practices, reflection, family and community as most important.
"Here is a snapshot of what's very important to Malaysians during Ramadan based on that research.
‍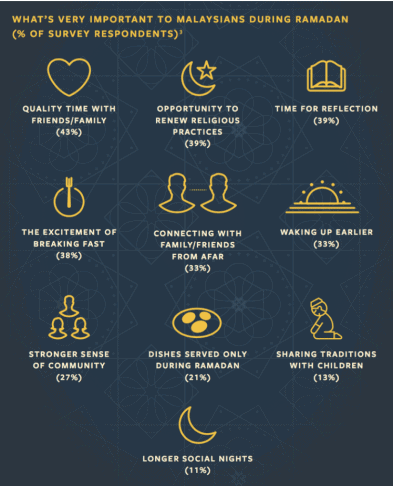 What's the key takeaway from this?
These are topics you can use when thinking about content for your branding exercises. Leverage on emotional angles to build honest connections with users.Use Ramadhan power words such as giving, self-improvement, worship, community, thankfulness, sharing, reflection or even family in your content.Have variation for your content, such as holiday related content and sales offers that are shareable.
Let's talk about good brand building initiatives.
Here are 2 good videos:
Petronas has always been known for tear-jerking and meaningful stories during this season for their branding exercise.
Here is a Snickers win-video on non-Muslims experiencing Ramadan and sharing with it about it.
Here's a controversial NO-NO video, PLEASE check if your content is aligned to the value of Ramadan:
Always check your ad messaging and have it reviewed so that it does not damage your brand.
You can also use these themes for your sales and promotional activities.
Such as:
Share with a love one and both of you will get a special offer
4 a.m. special deals to promote people to wake up earlier
etc.
Due to intense competition on Facebook, make sure your content is unique to increase your chance on influencing users to engage or purchase.
🎬 What sort of content format do they consume?
Facebook mentioned that Malaysians posted 28% more videos during Ramadan than surrounding periods, and the videos were mainly consumed on mobile.There are a few key things mentioned about videos:
Suitable aspect ratio (1:1 or 4:5)
Branding and messaging EARLY in the ad: as not many people will complete the video
Captions for a sound-off environment: many times people are reading captions as opposed to turning on the sound
Frames that capture attention: as there are plenty of noise and clutter, you need to have eye catching frames
You can leverage more on Instagram where visuals play a bigger role and communicate the mood of Ramadan.
📸 Ramadan related Facebook Posts pick up
Here are some of the key insights that Facebook provided for Malaysia. These are some of the Facebook posts pick up that are about Ramadan BEFORE Ramadan arrives.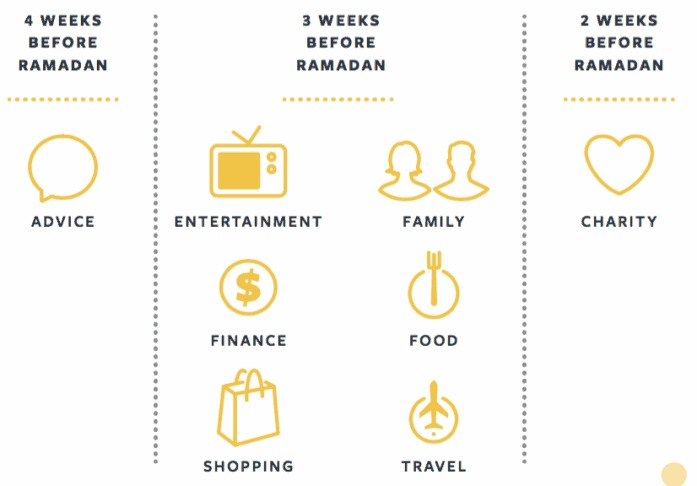 We decided to verify it with some of our Muslim friends:
They mentioned that they will usually start looking at shopping and travel before Ramadan because prices usually spike during the Ramadan period.
For food, they will usually be more active on food selection during Ramadan. Pre-Ramadan awareness would come in handy to prime them to think of the food to break fast during Ramadan.
As for charity, some of them mentioned that they will usually be more active with charity during Ramadan.
What's the key takeaway from this?
Plan out your discovery campaigns 3-4 weeks before Ramadan.Here are some strategies you could take.
If you are in the shopping or travel category, you can start focusing on selling/promoting before Ramadan. Even better, while everyone decides to spike their prices during Ramadan, you can start gaining market share by throwing in some special deals!
For food, it's a good time to create deals and vouchers, which they can use during the Ramadan period. You can also give this a try: pre-selling vouchers/meals before Ramadan that they can use during the Ramadan period (this might help with cash flow)
For charity, start building awareness and then use Facebook retargeting to nudge them again with special messages during Ramadan.
During this period, you'll want to make honest and prompt connections with your customers.
🗣 Conversation is the key to Conversion
Make sure your FB Messenger and Instagram Messenger are ready to welcome and reply to enquiries.

For Facebook‍
Start exploring click-to-messenger ads where people can immediately engage you on messenger if they like what they see.

For Instagram
‍For Instagram, many will prompt you to DM, and you'll need to direct message them to engage. We know it can be a hassle to type on mobile, so here's a little hack which you can use.
Go to Instagram on desktop
Right click and choose "Inspect"
Press "Cmd + Shift + M" (Mac) or "Ctrl + Shift + M" (Windows/Linux)
Refresh the page
You will get the mobile view on desktop

For Whatsapp
‍You can also leverage on WhatsApp's click-to-chat functionality. All you'll need to do is to insert a link where people can automatically message you.
‍Method 1: You can check out www.wasap.my
‍Method 2: DIY
‍
Instead of using the usal Whatsapp, check out WhatsApp for Business:
You can set auto-replies
You can label your conversations and filter them
You can also create quick reply messages without needing to type over and over again
👋 Final tip: Engage!
Xinch, Head of Marketing at Storehub, mentioned that the change in Facebook's algorithm since the start of 2018, there is now much more emphasis on engagement.
Focus on organic share rates to hype up your content and increase volume of engagement. Engagement is one key metric to determine if a post is truly meaningful to your audience. And now that you know how Ramadan can be a season to share and post meaningful content, it's time for you to start thinking about what you can do for your brand and your business.
‍
All right, this was a quick lowdown from us at NEXT Academy for this Ramadan season based on the some insights from Facebook Ramadan Playbook 2018 (Malaysia specific).
If you enjoyed this article, feel free to share ♥️ and comment! 👇👇If you find any interesting things and you would like us to give you some of our thoughts, feel free to comment below! 👇👇
Always remember that Digital Marketing is about translating insights into actionable strategies. If you want to learn more about Digital Marketing, hop on by and join us!