How Can Video Marketing Help My BusinessVideo Marketing is right now the in thing to get on board if you haven't already!
Video Marketing is just a type of content marketing that you can use to reach out further into the market. These days, many of us prefer watching a video rather than reading up on it. Think about it, when you are on Facebook, how much time would you spend videos vs a blog post? They say that images tell a thousand words, and since videos are a collection of images, it could show so much more. However, people these days have a shorter attention span than a goldfish. One of the hardest things for this medium is to figure out how to
retain the audience's very short attention span
.
Based on "TalkingtreeCreative" Jan 2020,
video length sweet spot according to platforms are as followed
:
Instagram: 30 seconds
Twitter: 45 seconds
Facebook: 1 minute
YouTube: 42 seconds to 2 minutes
Tik Tok: 15 seconds
LinkedIn: 30 seconds to 2 minutes
Wait….Does that mean that longer content is no longer valid? No. It just means that you need to
capture attention very early on
to use it as a gateway to longer video content pieces.
So how do you capture the right audience's attention?
If you are a NEXT Academy Digital Marketing student/ alumni, you would be familiar with the term
"intent"
. Different intent levels call for different types of videos. Whenever you produce a video, there should be a certain goal for the video. You need to decide what outcomes are you trying to achieve even before you press the record button. With all the various types of videos, each of them has its strong points, so pick which is necessary for its goal. Let's get started!
Here are some video types you can use for video marketing:
1. Explainer Videos
You need a
QUICK
,
CLEAR
, and
COMPELLING
video explaining who you are and what you do and WHY it matters to your Target Audience. Explainers can help educate people about your product and can be used in conjunction with instructions, customer service activities, and a whole other range of applications. The biggest mistake most businesses make is that they would make a video just about them, for example, "
This company was founded back in 1920… blah blah blah…
". Your audience doesn't care who you are, they only care about what you can do for them. It's important that the video should only input information that is relevant and needed to your target audiences.
Here are 2 examples, I'll tell you what caught my attention.
Vid#1 Airbnb
What I like bout it
: 
The video is engaging with its fast pace editing. Short, sweet, simple. with the very limited viewer attention span, you need to grab their attention in the first 10 seconds of the video. Do take note of the actual content itself, it shows to the audience straight away that they are going to meet new people, partaking in different activities. Text is also very important in doing videos like this, it helps lead the viewers to the direction of the message that you would want them to focus their attention on.
What can be improved
:
Although the video can grab the attention of the viewers, to me the video may lack information. It doesn't mean that it's a wrong thing to do, it goes back to what is the main goal of the video in the first place. Depending on your Target Audience, you can see that the content of the video is directed to western customers rather than Asians. It's a missed opportunity to show that Airbnb is a global brand.
Vid#2 Twitter Flight School
What I like bout it:
Good animations are always pleasing to look at, quality and craft are also very important to the attention span of the viewers. The message that they were trying to get across was very straight to the point, they avoided any unnecessary information that they didn't have to put in.
What can be improved:
Although they have very good animations, their way of presenting the info is still hard to follow. There is a need for pauses for the viewers to focus on what is trying to be said. One solution is to come in the form of text to add cues on what is important for viewers to remember and take away.
2.Tutorials & Guides
This is a great way to get your content out there and hit the
SEO's algorithm hard.
If implemented properly, you should be seeing your content on the top of the search results in no time!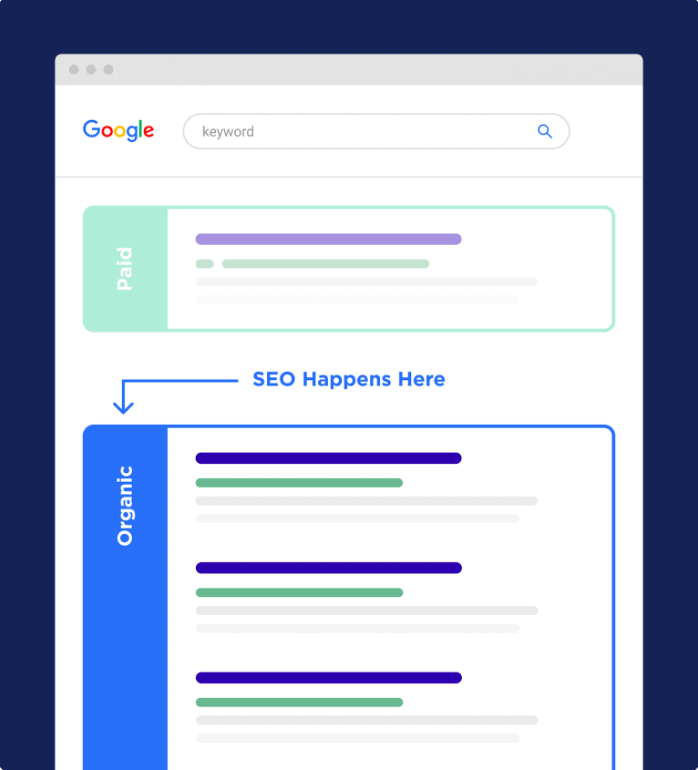 Search engine optimization
is what you do to grow your visibility on search engine results pages. The higher your video ranks, the better, more people will see your page when they search it on any search engine, like Google or Bing. Best of all, this attention that you can get is going to be
free and organic search results
if implemented correctly. Your goal should be to always appear on the first page of the search results. So coming back to
Video
, Why do Tutorials and Guides affect SEO much more than the others. Google's algorithms are increasingly prioritizing websites with video content. It's not something you want to ignore. Let's take a random topic to see an example… ‍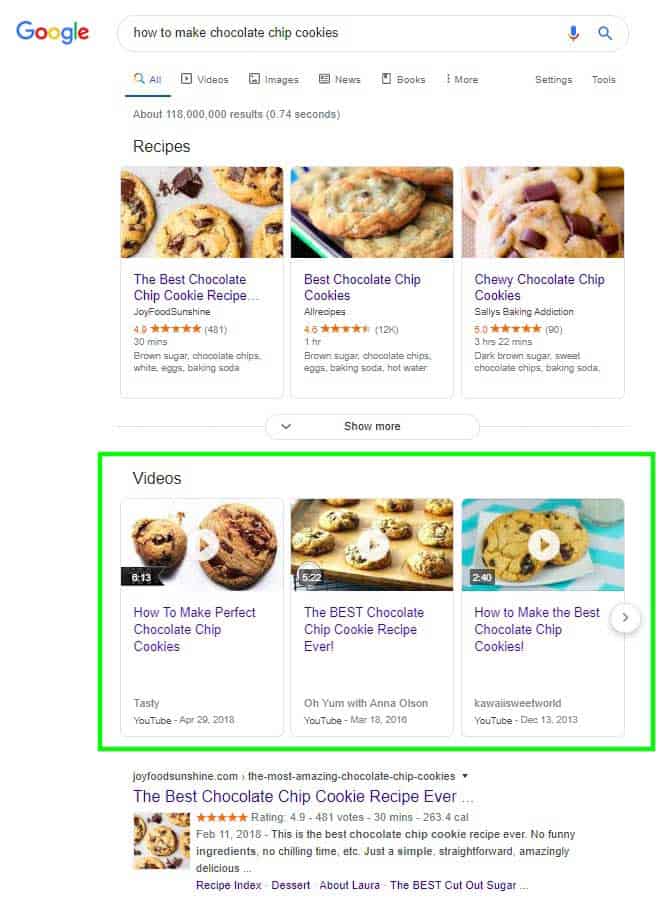 Who doesn't like chocolate chip cookies! Here you can see tutorials on how to make chocolate chip cookies are right on the top of the search results. Youtube is the place to upload and share your video. Youtube is owned by Google and Google has been featuring Youtube videos on Page 1!
Fun Fact
:
In 2019 alone there are a million minutes of video content being uploaded every second. Cisco said that, "
82% of all consumer web traffic will be video.
"
A student of ours had started using video marketing for her products to educate people after getting recommendations from
marketing mentors
. Her sales doubled and people started to discover her brand! If you have yet to jump onboard, you'll be losing out so much.
3.Review
Review videos tend to be the easiest thing to have conversion in your business. When you go to Amazon or Lazada to buy something, before hitting the purchase button, what do you look at? Reviews! In fact, people are often searching for reviews on Google and on Youtube. For example, "Sony camera vs Canon camera" or "Sony FS7mkii review". Viewers would usually be watching your video with the
intent to purchase
the product that you are selling.
Dyson Vacuum tech Review | IJustine
This video has 502,668 views.
Another way to read it is that half a million people are looking to buy a vacuum cleaner and they are now comparing vacuums. Occasionally, you would find Dyson sponsored content, but more often than not, many people are truly reviewing and recommending the products. (Well, they would also direct you to Amazon via their affiliate links) Have you ever watched an advertisement for a certain product and thought… "Can I trust this advertisement?… is what they are saying true?" No one trusts advertisements these days. You are likely more comfortable when you hear other customers and users talk about it, and this will help boost the company's credibility! Only after that you will tend to trust that company more.
Fun Fact
:
"
84% of consumers bought something after watching a video on it."
-Wyzowl
In fact, videos are great in describing the feel, the smell, the function, the look of the product. Text and images would not be able to deliver the same amount of impact. This a great way to turn your viewers into paying customers. Here's our example:
NEXT Stories: Fion See
Fion See is an alumni of
Next Academy's digital marketing course
. She has implemented digital marketing in her business called StickerBear and has seen her business grow. You can see how we use her story to bring light to our courses and showcase how we have helped her with this interview.
4.Interview
Interviews are a great way to open up a discussion and bring in engagements and discussions with the viewers. Depending on who you interview, it can bring your reach to the next level through connections.
Humanizing Your Business
If you are stuck not knowing who to interview, you can always start with yourself. Everyone has a voice, and everyone has a different opinion about the topic. Internal interviews are also a great way to
humanize your business
to show your customers/viewers about what is going on behind the scenes. ‍
What Is Digital Marketing? | NEXT Academy
‍
Here are the 2 things that we did to humanize ourselves:
Psst… You should really check out all our free resources & videos on various topics of Digital marketing! Do read our
blog
, join our
Instagram
or follow us on
Facebook
! ‍ Rubbing Shoulders With Authority Leaders Interviewing a high profile influencer will generate a lot of attention to your company. These people would have a good amount of following and it would be beneficial for new viewers to get to know who you are!
Digital Marketing Trends for 2020: Audrey & Xinch
Xinch is an amazing entrepreneur-cum-marketer who has made a name for herself in the region as a go-to Chief Marketing Officer. NEXT Academy has brought a lot of attention to her via our network, and she has done the same for NEXT Academy too! Not to forget the audio can always be re-used and market it as a podcast. Lookout for Authority leaders to interview in the field you are in.
5.Live Videos
Live videos are probably the best way to gain audience engagement, with the technology that we have today, we have easy access to our viewers. This can directly affect sales and numbers as it will bring up your brand recognition. We have seen people selling items online, doing auctions online and even streaming live. It's a great way to show off your products live. Not just that, Most of these platforms favor live content and frequently pushing your content to the top of the recommended watch list or the next up video. For example, your live videos are more likely to be discovered by people organically than normal uploaded videos.
LIVE Q&A Webinar: How to Do Digital Marketing for CNY
There is no doubt in having done this, it translates into better click-through rates, watch times, audience engagements and many more. Believe it or not, people buy and sell seafood LIVE on Facebook too. ‍ Take advantage of LIVE video/ streaming before everyone does it!
6. Branded Content
Branded content is such a good way to get yourself out there. It is not simply engaging an influencer to post up meaningless photos and shoutout, but creating content that truly engages with the influencer's fan base.
SoImJenn:Clinique Moisture Surge ad
If you don't know who this is, this is
SoImJenn
, one of the most popular, creative influencer-cum-content maker in Malaysia. The way she engages her fan base is through humour. Clinique engaged her to create content that could engage with her huge fan base. Her videos were so impactful that she popularised the term "sui sui de" on behalf of Clinique.
Fun Fact
:
"Half of 18 to 34 year-olds say that they will stop what they are doing to watch a new video by their favorite Youtube creator."
– Google
7. Corporate video
Corporate video is a good way to showcase your brand. Sadly, not many people are truly able to create videos that engages people's heart and mind.
Three Sixty Property Group – Corporate Video
My advice on this is that you should include a human touch to it. Human emotions can help relate to the company. Instead of telling your past successful projects, why don't you show how your company can relate to your customers? Take this Kickstarter video as an example…
Nebia Kickstarter Video
Even before they mentioned who they are, their story started with their mission to get you to relate to them. They want your buy-in, they want you to care. They want you to feel emotionally attached to the company, and because of that, you will support them. Always remember that,
brand videos are not about you, it's about how your audience can connect with your brand.
Conclusion
There are many types of content and video is one of the best ways to deliver what you do and who you are. Video is not only fun, but it is really one of the best ways to get up close to your audience and give them a real glimpse of what you and your business are doing. While creating videos, there are many other things to think about, such as: thumbnails, video length, sound, colours, subtitles etc. If you are interested to know and learn more, our
Digital Marketing Course
would show you some of the key things to look out for! Finally, here's what one of our marketing mentors,
Audrey Ling
, loves to say, "Always remember to use your video to help people imagine your brand, imagine what they can benefit from you. If they can imagine themselves using your products, you have already achieved 80% of your goal."